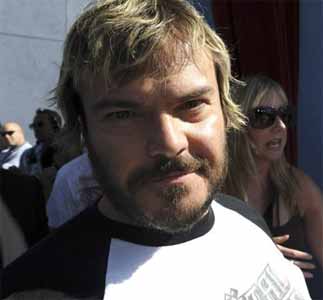 Jack Black was born in Santa Monica, California on 28 August 1969. At university he was a member of Tim Robbins's acting troupe and it was this collaboration that led to his 1992 film debut in Bob Roberts. Black went on to make appearances in television shows including The X Files. His performances in High Fidelity (2000), and his rock-comedy band Tenacious D have created an ever-growing cult following. Reviewgraveyard.com caught up with Black as his movie Tropic Thunder was released on Blu-ray and DVD...
Reviewgraveyard: I understand that you were the most natural at soldiering in this cast, though Robert Downey Jr. reckons he can still have you - what do you think?
Jack Black: What does it mean: "He can have me?"
RG: He claims to be the better soldier.
JB: Oh well, he's definitely the more experienced and trained fighter, according to him. I've never actually seen him train. But he says, and claims, that he's a jujitsu master basically. I don't think they wear belts, but I think he would be a black belt. According to him.
RG: You had the biggest gun though, didn't you?
JB: I did. Try to jujitsu on that, motherf*cker! He said he could have me, huh? He said that. We'll see him on the red carpet, see if he has me then.
RG: You worked closely with military adviser Dale Dye. What was that like?
JB: He was there, and he did give some consultation. We had some weapons training. I was strapped with the biggest gun, the heaviest one. They call it 'the Pig', an M60.
RG: You got to fight against a 12 year old in the film. Did you have to go easy on him?
JB: It was stage fighting, I never actually connected. And of course I'm very careful with the kids. I was in School of Rock, and we might do a sequel some day and that would really ruin it, if there were reports of me beating a child.
But we had a good scene, I think it came out really funny.
RG: Was he impressed to be fighting against the man who was the voice of Kung Fu Panda?
JB: You know there was no talk of Kung Fu Panda when we were making this film, because it hadn't been released yet. But yeah, that kid was great wasn't he? I predict he'll be making more movies.
RG: The success of this and Kung Fu Panda shows what a good year it's been for you...
JB: Not too bad, right? Robert Downey's not the only one with a hit this summer. He was really lording it over us with his Iron Man: Iron Man this, Iron Man that. No-one suspected that Kung Fu Panda was coming down the pike, to leave it in the dust.
RG: Do you like to take on dramatic roles, to mix it up?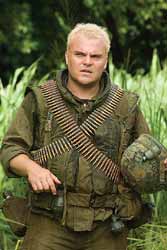 JB: That's the classic comedian's thing. They wish they were getting the respect of the dramatic actors. I don't really have that in me, where I'm longing to be seen as a dramatic genius, that's not my thing. I'm content to be a clown, that's what I like to do.
RG: In terms of sending up the film business, do you have to tread carefully for fear of not working again?
JB: We pulled no punches while we were making the film. Of course I won't tell you about the prima donna behaviour that I've witnessed, because we actors have a code of never revealing the spoiled brat behaviour of each other. It's an unwritten rule.
RG: You were stuck on a water buffalo in this film too, it seemed like every tricky task fell to you.
JB: It's true. The water buffalo was a tricky bit of business, a sticky situation they put me in. I didn't want to do it to be honest with you, but I sucked it up for the good of the film.
RG: How well trained was the water buffalo in the movie?
JB: Not well, not well trained. They're powerful beasts, I'd say close to a ton of buffalo muscle. And those horns are very threatening. Scary stuff.
RG: Did you bond with it?
JB: I tried. Before I got on her I would whisper sweet nothing in her ear, tell her that I loved her and that she looked really beautiful today. And that I was going to get up on her and ride her and love her, and it was going to be really sweet. It didn't help, she still didn't want me up there. But she was a good sport, and in the end I think we got some good comedy out of it.
We didn't know that the water buffalo was pregnant. She very ornery, and then she had the baby and everyone was: "Oh, that's why she was ornery, she was pregnant and we didn't know it". Then she still didn't like me, so I don't think that was really the problem.
RG: How was the boot camp?
JB: There was talk of boot camp, but at the last minute it was cancelled. I was ready, I didn't want to do it but I was ready for it. and I was relieved to find we were just doing a cast dinner instead.
RG: Thank you for your time.

With thanks to Ben Lee at Greenroom.
Tropic Thunder is available on Blu-ray and DVD from Paramount Home Entertainment from 26 January 2009.
Click here to buy Tropic Thunder on Blu-ray for £16.98 (RRP: £26.99)
Click here to buy Tropic Thunder on DVD (single disc) for £9.98 (RRP: £19.99)
Click here to buy Tropic Thunder on DVD (treble disc) for £16.98 (RRP: £26.99)
Return to...