Liam Neeson was born in Northern Ireland on 27 June 1952. He originally wanted to pursue a teaching career but in 1976 he joined the Belfast Lyric Players' Theater. After two years he moved to Dublin's Abbey Theater. It was here that he was spotted by director John Boorman and cast in the film Excalibur (1981), which dealt with the Arthurian legend. His first lead role was in Darkman (1990). He was nominated for an Academy Award for his portrayal of Oskar Schindler in Steven Spielberg's Schindler's List (1993) and in 1999 he appeared in Star Wars: The Phantom Menace as Qui-Gon Jinn. Reviewgraveyard.com caught up with Neeson as his movie Taken was released on Blu-ray and DVD...
Reviewgraveyard: Taken is an intense film - can you talk about the difficulties of the shoot?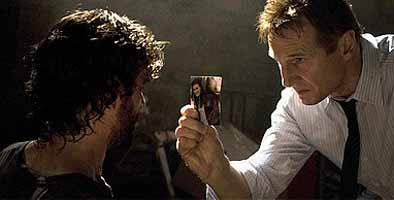 Liam Neeson: First, I love the physicality in films. It's always great to get the chance to flex your muscles. I've done quite a few action films, sword movies, plus there's been a lightsabre or two, and this was something, which, when I read the script, I thought: "I'm only going to do this if I can do my own fights". I really wanted to do that stuff and get into that world.
They had this style of fighting called 'parkour'. Did you ever see the movie District 13? Well, you see these guys jumping from building to building. It really is an extraordinary thing. It's like the first James Bond film, with Daniel Craig [Casino Royale] in that opening sequence, jumping from crane to crane. That's 'parkour'. Obviously, I didn't do any jumping myself; I get dizzy walking on a thick carpet!
'Parkour' is all these disciplines smudged together into something that's very nasty. It's a take-no-prisoners type of fighting. It's very simple mathematics. What's the shortest distance between two points? That's a straight line - they kind of go on that theory: "Okay, I want to get from here to there."
These guys are in the way of these people, or these people are in the way of these guys'. It sounds complicated but it's actually based on a triangle, the power of a triangle. To see these experts do it: you get in the way and in two seconds you are absolutely on the floor. When they started rehearsing, I thought: "F*ck, there's no way I'm going to do this stuff!" But I was a boxer as a kid and I keep fit so I just about hung in there.
RG: Did you do any particular physical training?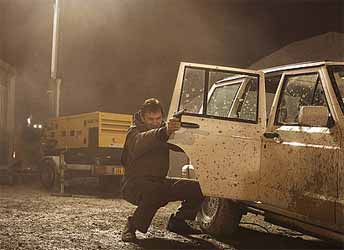 LN: Well, we'd start off every day and I'd do the basic training and then we'd get specific to the particular fight for the sequence in rehearsal. And the scary thing was that the fight choreographer, Olivier Schneider, and his stunt team would get me to make contact with people in training!
They said: "The camera's there, and he swings and will miss you, and then you hit the guy."
I said: "Oh, no, that's not what I do!" But he said, "You have to hit these guys. You have to kick them! I promise you they are well padded but you've got to."
Even then, during the first week and a half I was so tentative about it. But then I began making contact, and once I discovered that they were okay it was kind of releasing in a way. And then it was like: "F*ck! There's no stopping me now!"
The whole thing just lifted off. But they were happy and so I was happy. I discovered that when you are hesitant with it, that's when accidents happen. It's the same as with sword fighting. If you are hesitant, you pull back and that can create serious accidents.
RG: Your sword fight in Rob Roy must be a favourite...
LN: Oh yeah! That was a good fight. That was Bill Hobbs, the famous Bill Hobbs did that.
It's terrific. My first film was Excalibur and Bill Hobbs was on that, too, so we've done a lot of fights together. I learnt the basics with Bill. With my subsequent films I always fall back on what Bill told me. It was the same with Star Wars and the lightsabre, exactly. There are basic defence positions you take and basic thrusts.
RG: Was there a part of you that you brought to your character in Taken, or any part of him that stayed with you?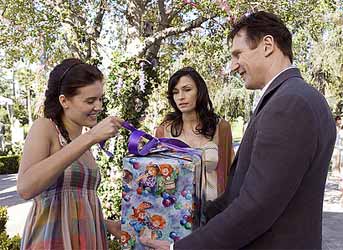 LN: Well you kind of bring yourself to the character with any part you play. As actors in films we all have certain baggage. You can't get rid of that. You can be the greatest actor in the world and put on a fake nose and do this and that and be different, but you'll always have a certain spirit or aura that's you.
I just thought when I read the script for Taken that I am enough to do it. I am all I need. I am not going to pretend I'm 26 and I'm not going to pretend I'm going to be this or that. I'm just going to be comfortable in my own skin - of course I'll alter my accent a little bit - and keep it me. I can't ultimately criticize myself the way you could. I can't see me the way you do as a critic, journalist and reporter.
RG: Did being a parent affect how you approached this character?
LN: Absolutely it did. I am a dad. I think it's probably the worst thing any parent could face, the abduction of a child. It really is. Death is preferable. There's no question of that.
As a Unicef ambassador I have access to facts and figures and dossiers of the numbers of young girls and young boys who disappear into the sex trade. It would make the hair stand up on the back of your neck. These stories do get press coverage, but then they often disappear. It's like Aids. 'Oh, we've done that'. Excuse me. It's on the increase.
With the issues in Taken, in New York, every so often, you read about police raids down in China Town and all these Asian girls are discovered being slaves. Although not necessarily in the sex slave trade but their passports have been taken away and they are working in sweatshops and being messed up.
RG: Is there one scene in the film that is of particular importance to you?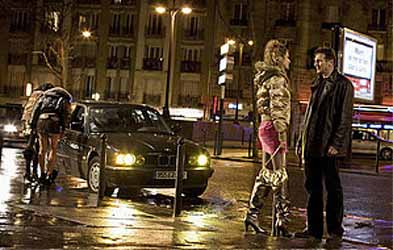 LN: I think maybe that fight scene with those five Albanians. We brought this man in to tell us what to do, because we wanted to avoid a cliché fight.
We said: "It's a very confined space. There are these four guys sat at table, one guy standing behind. Liam's character comes in. He knows there's going to be violence. What would you do?"
He said: "Well where's the door? You want to get out, so the door's got to be behind you..." and in about ten minutes he says this is what I'd do: "Get the knife. This guy's there. I'd kick him in the forehead, turn, (by this time, this guy's getting up), kick the table over to get him. The other guy would have fallen back and then there's maybe two seconds before I can get him. I know he has a gun..."
He was so professional and exact about it. I was suddenly: "Wow! Oh, f*ck!" It was brutal. So it is based on reality, that particular fight.
RG: Do you watch many DVDs?
LN: When I can. We live in a barn conversion. We are in up-state New York and in this really old barn where we have converted the upper part of it to a little screening room, and a gym. It will be finished by the time I get back and I'm getting this really cool projector system in.
I thought: "What's the first film I want to see? Schindler's List. It's got to be." I must get Schindler's List on this system because I haven't seen the film since it came out. I want my kids to see it. I've been compiling DVDs that I want to show them, DVDs of my own stuff and classic movies too.
RG: What do you think they'll particularly enjoy of yours?
LN: Actually, they'd like Taken although it's a bit old for them certificate-wise. They thought it was really cool. That was high praise indeed.
But there's a bunch of films that I'd love to share with them, like Shane and all the great John Ford westerns. I love those.
RG: Which actors do you enjoy watching on DVD?
LN: I love James Stewart, Spencer Tracy, Cagney. They were so comfortable in their skins. They could walk in a room and just be themselves, but they were still extraordinary actors. And what's amazing about them is that they were probably under more pressure than we are. Gee, think of the studio system. Jesus, they were turning out a movie every five weeks!
If you read some of these memoirs it's like a factory situation. On the other hand, think of the training they got, too. Extraordinary. A star like Tom Cruise makes one film a year or something like that. I think you have to practise your craft. You have to have that chance to learn.
RG: Has your passion for the job ever waned? You're financially secure; you could retire...
LN: No, not nowadays. Not after what's happened in the financial markets! Listen, I'm very blessed. I love what I do and I'm lucky enough to get the chance to do it. I really mean that. It's fantastic. When a stranger calls up your agent and when he says: "I really want Liam Neeson", I still get such a kick out of that.
RG: It must have been a kick when George Lucas called you up about Star Wars?
LN: We had a meeting. He did call me up. My agent called up. I'd heard there were two Jedi's in the film; one was a little older. I didn't read the script. There was no script at all but I got my agent to investigate and George said: "Actually, we'd like to meet Liam Neeson."
So I met him at The Athenaeum. I sat with the casting director and George and we basically talked about raising babies, boys. And that was the end of it: before we left he said: "I'd like you to do this and will you do it?" I said yes, sure. We never talked about Star Wars at all.
RG: You also worked with Woody Allen. He's famous for holding incredibly brief first meetings. Was he like that with you?
LN: Hah! Yes. I sat in the room with him for six minutes, and I felt so proud because I was told he might just look at me, shake my hand and then leave but we sat down and he talked about Ireland.
I kept thinking: "Wow! Five minutes has passed and he's still here". So he said: "I'd love to make a movie in Ireland and you should come over". And again I went back to my hotel and I had the job. He's famous for it.
Did you know that Clint Eastwood can't meet actors at all? He'll watch them on the screen, on tape or whatever. He can't meet them, though. Apparently it's because he feels badly for the actors in that situation, knowing you are up for a job. You are looking for work. He's amazing as a director; doesn't go beyond three takes. It's like he's shooting the rehearsal.
RG: You've now made three films with Neil Jordan. Do you have a particular connection?
LN: Yes. That's right, although I think Stephen Rea has done 12 and I think he's doing one at the moment so maybe that's 13! But we have a certain relationship. I love working with him, especially on Michael Collins, which was my particular favourite film.
But we know each other well enough that if we were having a bite to eat I could say: "Neil, what are you doing next? Is there something in it for me?" And he'll say: "I think so!"
But we're very open in that way. He's so eclectic and he's an unbelievable writer, and a wonderful jazz pianist.
RG: Really? Do you play?
LN: No, I don't. I'd love to have done. We're trying to inculcate the boys. The younger boy plays the cello. He needs practice but he's good. Michael plays the fiddle a bit, but they want to go out doing other things. So at that age I can understand why parents say: "Come on, keep up with the piano!'
RG: According to Internet rumours you were a good football player when you were young. Is that true?
LN: Me? I didn't play football at all well. No. I've two left feet. People say that I'm a professional footballer, and I'm: "What? You're obviously thinking of somebody else!"
No I was a boxer as a kid. I was quite good but I didn't have the killer instinct. It started to hurt the more I grew. I still train, though. I love the boxing training, and, like I said, it came in real handy for Taken.
RG: Thank you for your time.

With thanks to Harry Cole at Premier.
Taken is available on Blu-ray and DVD from Twentieth Century Fox Home Entertainment from 09 February 2009.
Click here to buy Taken on Blu-ray for £17.98 (RRP: £28.99)
Click here to buy Taken on DVD for £12.98 (RRP: £19.99)

Return to...