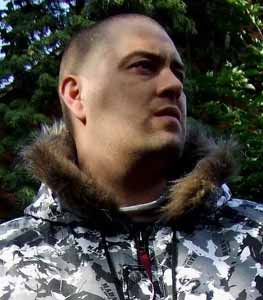 Tricksta is a Hip-Hop DJ and producer from Wolverhampton. He is the founder of UK Hip-Hop label Wolftown Recordings. He began his Hip-Hop career in 1989 as a DJ on Wolverhampton pirate radio station Fantasy 98.6 FM. In the '90s he began DJing internationally and was the first British DJ to play in the city of Istanbul, and has also DJ'ed in Los Angeles, Miami, San Francisco, Munich, Stockholm, Cannes, Amsterdam, Zürich and all over the UK. In 2001, Tricksta founded the UK Hip-Hop mixtape series UK runnings. Helena Rea caught up with Tricksta as UK Runnings's The Digital Revolution - Volume Four was released...
Helena Rea: What first drew you to music?
Trickta: Since I was a kid all my family has played music around the house and this I suppose is what drew me in. I used to tape the Top 40 off the radio and try and press pause before the DJ started talking! [laughs]. I love music; in fact I love most music. I am very open-minded when it comes to music.
HR: Where did your love of hip-hop come from?
T: It's my wife! We got married back in 1986 and we have been happy ever since. After hearing Public Enemy 'Your Gonna Get Yours' I was hooked. It's the attitude, the vibe, the realness, the sound and very expressive. I don't love Hip-Hop, I am Hip-Hop! [laughs].
HR: What major musical influences have been instrumental in the way your career has been shaped?
T: Independent record labels from all genres really. I worked in a record shop for 5 years and it showed me a lot about how and why people buy music. Its showed me that you can create a sound and run with it, from labels like Strictly Rhythm who put out house, Moving Shadow who put out jungle, then obviously labels such as Def Jam, Wyld Pitch, Tommy Boy, but on a business level I would say probably Master P's work ethic with his No Limit empire inspired me a lot.
HR: How did you first get into UK Runnings and what was the motivation?
T: UK Runnings started in 2001; two years after myself and my business partner LATE started Wolftown Recordings and RAGO Magazine. I have always supported UK Rap; I just feel it is important to have a good domestic scene especially when there is so much talent here. The motivation is the artists, I just love what they do and feel that rappers in the UK don't get the attention they deserve. I started UK Runnings to promote and help the UK movement.
HR: This is the fourth volume to be released now, how would you describe this tape to anyone who doesn't know the style?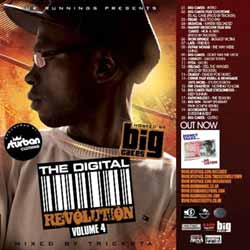 T: Yeh this is the fourth volume of The Digital Revolution which is sponsored by Sturban Clothing. This volume is hosted by London rapper Big Cakes who has just dropped his 'Money Talks… So Listen' mixtape. This series is a FREE MP3 download series, hence the 'digital' part of the title! This is underground real Hip-Hop from all corners of the UK.
HR: It is very apparent you have a love and passion for the UK Hip-Hop scene but what are your thoughts on American Hip-Hop?
T: I love Hip-Hop regardless of where ever it's from! A lot of people in the UK are just into UK Rap, Grime and New York Hip-Hop, and so am I but I also like West Coast and Dirty South too. As for me a love it all - if it's good I get down with it. I have also done mixtapes with a string of names from the States such as Papoose, Chamillionaire, D-Block, Stat Quo, Sheek Louch, French Montana, Keak Da Sneak, 40Glocc, Spider Loc, The Jacka, Red Café, K-Rino, Hardtimes Records, KB Da Kidnappa, Geolani, Big Skeem, St. Laz, Rain, Dino West from No Limit, Big Cas, Thugstar, Murder One, D.A, Kapt. Kaveman and many more!
HR: What do you say to people who are of the notion that Hip-Hop is all about guns, drugs and bad living and that it's a bad influence on youngsters/teens?
T: This is a good question and one that always seem to come up. Most of the Hip-Hop that talks about guns, drugs and bad living is on major record labels and the positive more intelligent stuff is on independent labels! Hip-Hop music is so much deeper than drugs, bad living and guns, but sometimes I notice that people dismiss a track as being negative and sometimes the track is saying 'this is what can happen to you if you have this life'. Hip-Hop is audio too, I mean look at films and computer games these days and they are more visual!
HR: If you could turn the clock back what would you change in your life and why?
T: Looking back I might have moved out of Wolverhampton where I live. I do regret not living in America, I think I would be a very rich man if I lived in America as they treat music a lot more serious than in the UK, but now I'm older I am kind of glad I stayed here, its where my people are, and I love my people!
HR: What motivates you more: money, family or fame?
T: I do have a six year old daughter who I love to bits; she's a bog focus for me. I really ain't bothered about the fame and as for money; well I run an independent label so I am so used to being skint it's untrue! [laughs]. As long as I am doing this music thing I am happy, I wear many hats to get by, and it's a struggle sometimes but I love it. I really do.
HR: If you got bored of this industry tomorrow what would you do for a day job?
T: I really don't think I would. I went to work in a record shop in October 1991 and have worked in the industry ever since! More recently I have asked to give talks at various youth centres and colleges which I quite enjoy, so if I had to answer I would go into teaching, mentoring, youth work I think. I love young people; they inspire me a lot.
HR: You are an internationally renowned DJ; where is your favourite place to DJ and the worst?
T: Well thanks for the compliment! I loved DJ'ing in Miami, Amsterdam and Stockholm. They where good gigs man! I always love playing in my hometown Wolverhampton too; they have an old skool night called 'Cloud 9' which is the best place to go! I love Cloud 9! As for the worst, I DJ'ed in Newcastle once and there was 6 people in the club! [laughs]. That was a nightmare as the promoter was a tit!
HR: What's the one thing that you are most proud of in your life right now?
T: I can't say one!!! My daughter, my girl, my cat, my people and my debut production album which is coming along nicely!

The Digital Revolution: Volume 4 is available from UK Runnings from 05 November 2009.
Click here to download this album for free
www.myspace.com/trickstawolftown
www.myspace.com/uk runnings
www.ukrunnings.co.uk
www.wolftownrecordings.net
www.sturbanclothing.com
Return to...