Chris Harvey aka Krystatic is a 19 year old Midlands songwriter, performer and recording artist who began rapping in 2002 at the age of twelve. After listening to artists such as Biggie, 2Pac, Ludacris, LL Cool J and his favourite artist Nas, Krystatic knew that Hip-Hop was the music he wanted to create. Coming from a strong musical family background, he began to start recording with his cousins Dezert Rhino and Rico Levant from Tru Fam Records where he recorded two underground promotional mixtapes entitled The Next Big Thing: Volume One and Luxury Life. Krystatic commenced work on his first full length debut solo album, Stepping Out the Box, in the summer of 2009 where he enlisted the help of some of the Midland's best producers from Tru Fam Records such as Dezert Rhino, Rico Levant, S.X and Smiffey. Helena Rea caught up with Krystatic as Stepping Out the Box was due to be released...
Helena Rea: Do you find this industry hard being only 19? Has anyone ever dismissed you because of your age?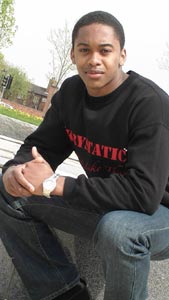 Krystatic: Breaking through into the industry is hard but its not the age that makes it hard. You could be 28 and finding it hard to break though. No one has ever dismissed me because of my age it's more time people have dismissed me because of the production.
HR: You were only 12 years old when you first began rapping. Did you find this hard to get noticed and taken seriously?
K: Well when anyone starts on a talent they're not an expert they're just a beginner so you won't hear the best lyrics from them. When it was with me I just kept on practising and practising until you get better I have had people saying that I'm not good, you shouldn't rap but that make me practise more to prove them wrong and to take me more seriously. Practise makes perfection.
HR: You entered a local talent competition 'Wolves Top Talent' and made it all the way to the semi-finals. How do you feel about mainstream talent shows on TV, such as The X Factor?
K: Mainstream talents are an excellent way to get yourself and your music known. That's how Leona Lewis made it to the top and she is an amazing singer so they are good for making dreams come true.
HR: Would you ever consider entering one of these shows?
K: Me, personally, no because a lot of good artists on there get turned down and when you get turned down you are already in the public eye so there won't be no surprise. With me I want people to know me for someone who made it like all the other UK rappers like Giggs, Dizze Rascal and Chipmunk.
HR: What influences your songwriting? Where do you begin?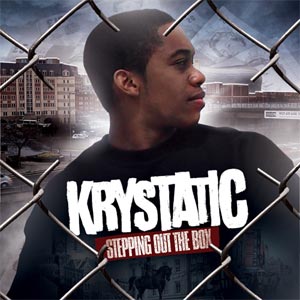 K: A lot of artists influenced my songwriting like Nas, Tupac, LL Cool J and Usher so I usually think of a topic to rap about and put into a story with a good flow and a catchy chorus.
HR: Where did the name Krystatic come from?
K: That took me a long time to think of that name to be honest, I was with Dezert Rhino and Rico Levant in the studio thinking of original names. I wanted to have something that started like my first name then end it with something else and I was thinking static so I put it together as Krystatic but it wasn't as easy as that.
HR: Stepping Out The Box is your debut solo album, when is it released and can you describe the influence behind it?
K: Yes it is that's my debut solo album and it will be released before Christmas [2009]. The influences behind the album is to be relaxing with a bit of excitement and Nas, Jaheim, LL Cool J, Jay Z Giggs influenced the album.
HR: What have been the highs and lows in the making of and release of this album?
K: A lot of people mess you about when it comes to making albums sometimes but I carried on with what I was doing putting in the work and not letting people hold me back and my album was completed on time.
HR: Are there any plans for a tour?
K: I wish [laughs] but hopefully when this new album is released I should get a lot of people asking me for shows and bookings.
HR: What was the last gig you went to?
K: The last gig I performed was at the Public in West Brom. It have a massive audience and I got a good response after I performed there.
HR: If you could choose just five words to describe you what would they be?
K: Humble, Clever, Competitive, Passionate and Grateful.
HR: And finally, one for the girls: Is there anyone special in your life right now?
K: Nah. Well, I've been looking for that special someone like the track on my album, I've had a few link ups with many and I decide whether they're right for me or not but at the moment I'm still looking.

Stepping Out the Box is available from Tru Fam Records from December 2009.
Visit Krystatic's Myspace page: www.myspace.com/krystatikal
Return to...