Ladi6 (Karoline Tamati) is New Zealand's premier female vocalist MC. She is renowned for her energetic live performances, sublime soulful vocals and conscious lyrics. Ladi6 started her musical career as part of New Zealand's first all-girl hip-hop group Sheelahroc. Ladi6's distinctive voice has featured on some of the top underground albums to come out of New Zealand in the last decade. Her vocals feature on standout tracks by some of Aotearoas finest talent, including Shapeshifter, Scribe, Fat Freddys Drop and 50 Hz and internationals such as top German hip-hop artist Sepalot. Helena Rea spoke with Ladi6 as her highly anticipated and long awaited debut solo album Time Is Not Much was due to be released...
Helena Rea: You first started your music career in New Zealand's first all girl hip-hop group, Sheelahroc. How did that all come about?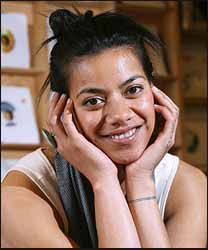 Ladi6: By complete accident actually.
I had always been a writer of poetry and things, and I assumed I was being asked by Vudu Child (Sheelahroc member) to come up to her place to write poetry, and instead was met with a boombox and the hieroglyphics instrumentals, and from there my love for hip-hop grew, and from there we formed what was Sheelahroc.
HR: What response did you get in the beginning being not just a girl hip-hop group but New Zealand's first hip-hop group?
L6: We weren't exactly NZ's first hip-hop crew, nor first all-female group there had been a few before us, but for sure we were attempting to be NZ's first all-elements all-female hip-hop crew.
At first we were battled and questioned as to our intentions and authenticity of our group and tested on knowledge and love for hip-hop, by hip-hop heads, but in the end we were embraced and supported.
HR: How did your family react when they heard you were going to be in an all female hip-hop group?
L6: It didn't phase or surprise them one bit, in fact Sheelahroc the crew was in its second time round. We actually inherited the name and asked for it from the previous all female crew that had it called, Sheelaroc. But they spelt it without a "H", and it was a crew made up of a bunch of girls, two of them being my eldest and youngest sisters, who at the time were breaking, djing and tagging.
HR: Sheelahroc was a big group, how did you all get along?
L6: It was pretty easy. We were, and stayed in, this honeymoon phase, disbanding before we ever got the chance to get sick of each other properly. So, we just lived off the excitement most of the time. Everything was fresh and new, even the hip-hop scene back then was having its second popularity resurgence, so we were riding high on that, like everyone else around us at the time.
HR: Moving on from Sheelahroc you took more of a front role in Verse Two. How did the two bands compare?
L6: At first in Verse Two I was the co-front person with Parks. I definitely felt at the time that I took more of a front role position with Sheelahroc, but in the end, yes you're correct I ended up being the sole front person. Verse Two was scary for me at first, and I wasn't sure how I was supposed to feel about it, I kinda jumped into the deep end with that band, but learnt how to swim eventually...
Verse Two was a proper five piece band. We had to have proper rehearsals and make up songs using a guitar or keyboard.
Sheelahroc was a, 'practise with your hairbrush in front of the mirror', kinda thing, so one seemed more serious and there were more people involved with Verse Two. It definitely felt like more effort, so, in saying that, it also felt like a natural progression to something newer, and a bit harder for me.
I enjoyed it.
HR: Would you say you favoured one more than the other?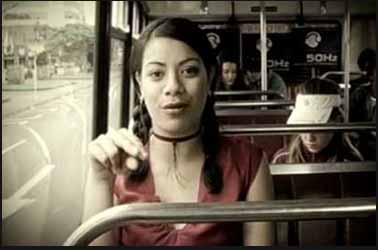 L6: No, it all felt very much like I was progressing naturally. I felt really sad, almost depressed when Sheelahroc disbanded though. As you can imagine that was my baby and I was glad to have Verse Two to keep my mind off being so sad!
So actually, I guess, I favoured Sheelahroc in the beginning but now in retrospect I was exposed to a whole new world with Verse Two. I didn't even know what an amp was before I was in that band... so... yeah I don't know... that's a hard one playing faves!
HR: Verse Two saw you supporting acts like De La Soul and 50 Cents, what was it like knowing you were the opener for these guys?
L6: Ya know I was so ecstatic supporting De La, they had been my older brother's fave when he was young, then mine with their newer albums so I was super stoked.
We opened De La due to Scribe. He had us perform with him, as he was a solid part of Verse Two before he blew huge. And I was a performing as a part of his set (Scribes) when I got to support 50cent as well.
Alicia Keys was my first solo support set, and I was shaking with nervousness before both the Akld and Welly shows.
I kept thinking, how did I get this gig??
HR: Did you get to hang with them backstage? Do you have any gossip on them?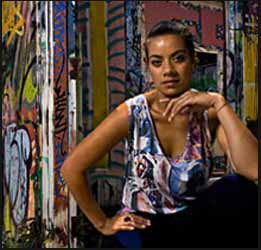 L6: No to all the above shows.
Like not at all, in fact for the 50cent one we were literally kicked out of backstage before 50 arrived.
De La were good they signed a towel for me, I was fully pregnant and felt like it at the time - so I wasn't mingling even if I wanted too, which I didn't want to.
And Alicia Keys, no way. I think I could've if I pushed it, but I turn into mush around famous people, so I would have babbled on incoherently, it just would of looked bad.
HR: You have just released your first solo album, Time Is Not Much. How did it feel going solo?
L6: It felt fantastic, but as well it's not really solo. It was more of a duo collaboration between myself and Parks and has been ever since. We were both extremely excited and relived to get it out, as it took awhile to make. We put it out with the intention to do so many more... so we were more excited at the prospect of knowing that this was only the beginning!
HR: Are there any plans for a second album?
L6: Absolutely. We are in the process of recording it now!
HR: Are there any plans for a UK tour?
L6: UK tour? Well we have done support shows in London with Gil Scott Heron, and solo ones in London, Ireland and Scotland, and will be back in London on the 26th August (2010) with our own bigger better solo show, so if that is considered a UK tour then, we have done one. But there are always plans to tour the UK. We're from NZ, there are plans to tour everywhere, all the time!
HR: Having been hailed as New Zealand's answer to Amy Winehouse and Lauren Hill what was your reaction upon first hearing this?
L6: Wow! I've never heard that before. My reaction is WOW! I want to believe that, cos that sounds so awesome!
HR: Are you a fan of the above two artists?
l6: Are you kidding, a HUGE fan of both women! Really, HUGE!
HR: What inspires you in life?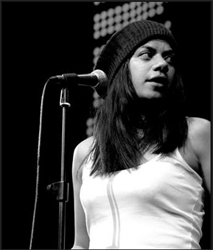 L6: People who really give it up and sacrifice their otherwise 'normal life' for their creative freedom. That's what's inspiring me at the moment.
Also artists who push boundaries and open up doors to express themselves how ever they like are inspiring me too. Like minded individuals and discussions on why it's okay to live this crazy life like we do. Living life freely and carefully is inspiring me at the moment.
HR: If a movie were to be made about your life who would play you and why?
L6: Eva Mendez would play me, because she's sexy as hell and I love her!
HR: When was the last time you really laughed and what was it that was so funny?
L6: I laughed til I cried watching the movie Boy - by Taika Waititi. It was funny, but I laughed til I cried because I've been in Berlin, Germany for a while and it all reminded me of home and it was so familiar it was awesome, and i cried cos it made me kinda homesick and sad as well.
HR: Thank you for your time.
L6: Thank you - Great questions. All interviews should be this easy and fun!
Ladi xox


With thanks to Tayo Maronie at BBE Music
Time is Not Much is released through BBE Music 19 July 2010.
Click here to buy this album on CD for £9.99
Click here to buy this album as an MP3 download for £5.99
Return to...