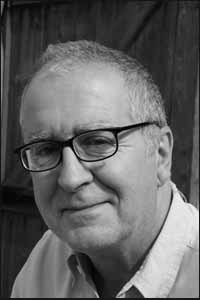 Nicolas Ridley didn't follow in his parents' footsteps and go on the stage. From his father and mother he inherited several 'tricks of the trade' but any lingering theatrical ambitions he may secretly have harboured were blighted by an inexplicable tendency, while performing, to adopt an ersatz Welsh accent and waddle about like a poorly-upholstered duck. Instead he became a random traveller, an uncertain teacher and an accidental publisher. Darren Rea spoke with him as the audio book of Godfrey's Ghost: From Father to Son was released through Fantom Films...
Darren Rea: How do you think your father would feel knowing that you finally managed to get 'The Book' published when he had been sadly unsuccessful when he was alive?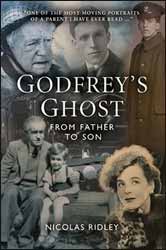 Nicolas Ridley: I believe my father would be pleased with Godfrey's Ghost. It's an honest and affectionate attempt to paint a rounded picture of a truly remarkable man.
I was fortunate to have 'The Book' as a source for his early life but my memories of him, the conversations we had and the stories he told me, were as, or more, important. (By the way, what is reproduced in Godfrey's Ghost are only extracts from 'The Book'.)
I don't think it bothered my father particularly that 'The Book' didn't find a publisher (although it frustrated my mother). It was something he wanted to write and I think we was pleased to have finished it.
The second part of 'The Book' doesn't have the energy or vitality of the first part. This may be because - as is sometimes said - when one approaches old age, the distant past is more vivid than more recent years. Also, he wasn't the sort of person to write a 'showbiz autobiography'. He had no gift for gossip or scandal or suchlike i.e. the sort of thing that many commercial publishers look for in a book.
DR: The audio book release is an abridged version of the original book. Was it difficult making those editing choices? And are there things that you would have left in if there were more time?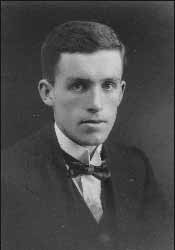 NR: The audio book is about one-third the length of the book and the book is half the length of the original manuscript! Fortunately I had a wonderful editor to edit the manuscript and an excellent abridger to abridge the book. (I'm pretty sure I wouldn't have been able to do it myself.)
The audio book is perhaps closer to a conventional biography while the book is more theme-based and ranges more widely.
Yes, there are many other wonderful stories that my father told me that I wasn't able to include, and there are anecdotes in 'The Book' that didn't find a place in Godfrey's Ghost but I guess that's inevitable - and I can still tell some of these stories to family and friends if and when they show any interest.
DR: You mention that you've never really been a big fan of Dad's Army. Was that mainly because your father was in it, or was it just not something you ever managed to get around to watching when it was originally broadcast?
NR: Dad's Army simply wasn't part of my life. It was first broadcast in 1968 which is when I graduated from university. I spent most of my 20s and 30s living and working abroad. I was aware of Dad's Army and very grateful for it because - after years of financial anxiety - it gave my parents a modicum of security. I was also grateful because my father - like most actors - wanted nothing more than to work and he felt it was a great privilege to be working with a team of people he liked and admired through and beyond his eightieth birthday.
I'm not sure why I didn't watch repeats of the show. Perhaps because I hadn't seen them first time round. However, when - as part of the research for my book - I bought the DVD set and started watching some of the episodes, I found it very engaging. It was a very strong cast with wonderful scripts and I can completely understand why it has renewed its audience again and again.
DR: As Private Godfrey your father brought laughter to millions. Listening to the audio book there seems to be a desire to get across to fans that he was nothing like the well meaning buffoon they know and love from the show. Why was this so important to you?
NR: I think I have to come to Private Godfrey's defence! I don't think he was a 'buffoon'. He was bumbling and doddery and old. He was also brave, honest and intensely loyal. Private Godfrey was a part my father played. He was not my father. (As I say in my book, a starting-point for writing about him was to ensure that my children, who didn't know their grandfather, would never mistake Godfrey for my father. Television creates very powerful characters and it's sometimes difficult for all of us to distinguish a fictional character from the actor.)
Having said this, there were elements of Godfrey in my father. The writers, Jimmy Perry and David Croft, were very adept at borrowing traits and feeding them into the parts they were writing. Was my father as courteous, gentle and innocently willing as Private Godfrey? Yes. Sometimes. But as his agent, Bill McLean, said he was never a pushover and he would stand up to anyone if the need arose.
DR: What did you think to Terry Molloy's [who reads the Arnold Ridley segments in Godfrey's Ghost] delivery?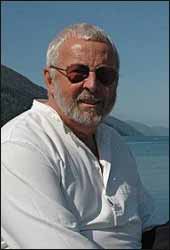 NR: I have to admit that I have only listened to parts of the audio book because I find it embarrassing to listen to my own voice, but I have tried to skip through and find the parts where Terry [pictured] reads from 'The Book'. He does it wonderfully and I'm most grateful to him.
DR: Were you nervous when it came to the actual recording? What was the experience like and would you be happy to do it again?
NR: I'm not sure I was 'nervous' but I was well aware that recording a book is a challenging business and - as a first-time amateur - I knew it wouldn't be easy. I enjoyed the experience, learnt a lot and - yes - if anyone offers me the opportunity to read another book or so something similar, I'd be delighted to give it a go.
DR: Fantom Films has also recently released an audio production of your father's 1923 play The Ghost Train. Have you ever seen the play performed and if so what did you think to it? Are you surprised it's still so popular and bearing this in mind are you surprised that he didn't have any other plays which were picked up in quite the same way.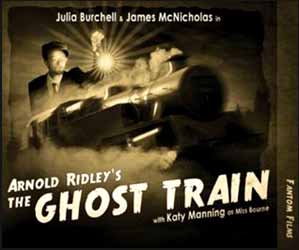 NR: I've seen The Ghost Train performed many times. Sometimes well; sometimes very badly indeed. It's popular because it's a well-made play that works on stage. But the director and the cast must have faith in the play. If they play it for laughs, they won't get very many. If they play it straight, they'll be surprised to find how well it works.
My father had more than thirty plays produced in the West End - at one point three at the same time - which is more than most playwrights can say. Some of his other plays he thought were better than The Ghost Train but, as you say, none of them achieved the same success. I think this is often the way with early success, isn't it?
DR: If you could have one last conversation with your father what would you say to him?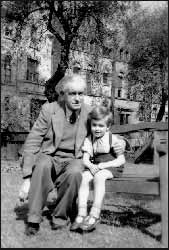 NR: This is the sort of question I find difficult to answer. One of the joys of writing Godfrey's Ghost was recalling conversations with my father and so clearly hearing his voice again. I still hear it and I hope this continues. Like many, or most, fathers he has been a major influence on my life and the way I have led it. Through me, he has been an influence on my children. Some conversations continue from generation to generation.
DR: If a movie were to be made of your father's life who would play him while he was in his prime? And who would play you?
NR: No, this one defeats me. Perhaps Trevor Howard could play my father? And me? What an alarming thought. No idea at all.
DR: What are you working on at the moment?
NR: I have to admit I'm very superstitious about writing and never talk about current projects. I write, very slowly, under a number of different names – none anyone would know! Godfrey's Ghost is the only book I have written under my own name.


With thanks to Dexter ONeill
The audio book of Godfrey's Ghost: From Father to Son is released through Fantom Films from 02 May 2011.
Click here to buy this release on CD for £13.99 (RRP: £13.99)
This interview was conducted on 01 July 2011
Return to...