Nathan Furst was born on 04 July 1978. A television and film composer, his first major film was the 1998 movie A Moment of Confusion. He has gone on to compose music for other films including the first three Bionicle movies, Dust to Glory, and Lake Placid 2. Television shows he has worked on include The Real World and Max Steel. Darren Rea spoke with Furst about his work on the movie soundtrack for Act of Valor...
Darren Rea: How did you get involved with the score for Act of Valor?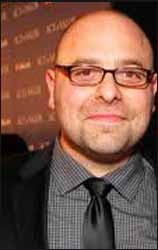 Nathan Furst: I had been working with both Scott Waugh and Mouse McCoy for years, starting with Dust to Glory.
We've done quite bit of work together, so when Act of Valor started coming together as an idea, they were already talking to me about it. I had started working on themes and orchestration textures before they started shooting.
DR: When you're writing a score what's the hardest aspect for you - the part that you dread?
NF: Very interesting question!
Generally speaking, I think finding the perfect 'tone' in the film can be an intense task. I feel strongly that the music needs to feel like it was truly born with the images, and feels as organic and natural possible - almost to the point where discussing the score would be like discussing if blue is the best choice for the sky - it doesn't matter, because it exists as one with the film.
With that said, getting silly notes from suits at the last minute - that barely know what film they're watching, is hard to take.
DR: And which comes most natural, or is the part of the process you most enjoy?
NF: After all the pain and frustrating of trying to find the right theme, the right tone... when you finally get it right, there's absolutely a definitive moment where it 'clicks' - and there's nothing like it. It's absolutely euphoric.
DR: Did you always know, from an early age, that you wanted to do something in music as a career? Where you pushed into it by parents, or did you want to learn music?
NF: My parents didn't push me into it at all! I taught myself to play the piano around age 12, specifically with the goal of composing music in mind. Since the age of 8-9 years old, I listened to countless hours of film scores and concert music. I was just drawn to it. I actually remember the moment I first heard [Alan] Silvestri's Back to the Future theme when I was 7 years old, and Danny Elfman's Batman score when I was 10.
DR: Who would you chose to compose the soundtrack to your life?
NF: Wow. I haven't thought of that. If we could bring back Bernard Hermann and he and John Williams wouldn't mind collaborating, that would be the winning ticket for me.
DR: What was your first paid job and how did it feel to receive money for doing something you loved?
NF: My first paid job was ghost writing for a TV composer when I was 20. It was very exciting and frustrating at the same time. So close, yet so far. But mostly exciting to know that I was starting a long career and journey.
DR: What's the one commission you were most satisfied with and why?
NF: I'm lucky enough to have a few very satisfying experiences. I'll start with the original Bionicle trilogy, because the film makers gave me overwhelming freedom to realize the score I wanted to write. I got to exercise the John Williams and Silvestri fanboy in me, and I wrote some of the best themes I've ever written to date. It was immensely satisfying.
Another facet is Act of Valor, which was an amazing experience because I came on so early, I was really able to get inside and make every note what it is supposed to be, with the director being so involved in my writing process and giving me very in-depth feedback. I absolutely love that collaboration.
DR: When you read good or bad reviews that single out your music how does it make you feel? Do you care what critics say (after all it's only one person's opinion) or do you take it badly if a review is bad?
NF: No I don't care at all. I learned that very early on. I've noticed that reviews like to review lesser known names by comparing them to big names instead of actually listening to the music - not just with me, but with peers of mine as well. Also, often the reviewer's opinion of the film itself bleeds into the review of the music.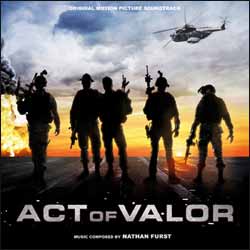 What matters to me is when I see that look in a filmmaker's eyes like they're watching their own scene for first time - to see their emotional reaction is amazing and gratifying. That and when I get fan mail on Facebook or email from strangers telling me they were moved by my music... that's very rewarding.
DR: If you could go back in time, to impart one piece of advice (about anything) to a younger you... what year would you go back to and what would your advice be?
NF: Oh god! I would probably go back to my 18 year old self and tell him to aim higher sooner.
DR: What are you working on at the moment?
NF: I'm currently finishing up a project for WWE films, and then I'm onto a big studio picture that I'm not allowed to discuss at the moment, but it's all very exciting!


With thanks to Beth Krakower
Act of Valour: The Score is released through Relativity Music.
Click here to buy the Act of Valor MP3 soundtrack album for £7.49 (RRP: £13.99)
Return to...