Louise Dearman is one of the brightest West End talents doing the rounds at the moment, and is about to embark on a concert tour of the UK, It's Time. Up until recently, she was starring in the West End production of the smash hit musical Wicked. Ian Gude caught up with as her new album, It's Time, was due for release through Silva Screen Records...
Ian Gude: What was it like being the first person ever to play both Elphaba and Glinda in Wicked?
Louise Dearman: I'm a lucky girl - it was incredible. This past year has gone so fast. Playing Glinda alone was amazing. It's been a slow and steady climb - I've done lots and lots of touring, so to finally get the role of Glinda was amazing in itself. Playing that for two years, then taking 10 months off, then to be invited back to play Elphaba was an absolute dream. A tough role to play, but wonderful at the same time.
IG: Which role did you prefer?
LD: Ooh that's a tough one! I loved the comedy element of Glinda, and the fact that she's this really fun, bubbly, sometimes ditzy character. Also, singing in the soprano voice was a big challenge for me. But with Elphaba, I just loved the whole transformation physically, turning green every night, and getting to sing those enormous showstoppers.
IG: Yes, they are proper belters. Had you seen the show much before joining the cast?
LD: I'll be completely honest - the first time I ever saw the show was in my final week of rehearsals. Just one of those things really. You never get much time when you are in shows, to go and see other shows. I auditioned, and I purposely didn't go to see it before I auditioned, because I didn't want to just become a carbon copy of how someone else had played the role.
All the way through rehearsals I was saying to the creative team 'I want to see this show, I NEED to see this show!' and they were constantly telling me to hold off until I had completely discovered how I wanted to play the role. So that's what I did, and it was quite overwhelming really.
It's such a spectacle, an enormous show, and you're so aware of that when you're watching it, knowing the next week you are going to be up there, doing it. It's daunting and exhilarating.
IG: I can imagine. So, growing up, what shows interested you? Wicked is such a popular show, especially amongst the younger generations. Which shows influenced you as you grew up?
LD: When I was 12, I was in the choir for Joseph and the Amazing Technicolor Dream coat at the London Palladium, and that was the moment I think that I realised that I wanted to be in show business. It was such a wonderful experience for a young girl to be part of.
I remember going to see Cats, and just being sat there with these dancers walking around, being cats, so close that you could touch them, and being completely mesmerised.
When I was at Dance School, we very often went to see shows like Fame and Grease, and all those bright, bubbly musicals, so those were the type of shows that influenced me when I was younger. It wasn't until I went to college, and was slightly older, that shows like Les Miserables and Phantom of the Opera really kicked in, and gave me a buzz.
IG: As I was flicking through my various archive recordings last week, I noticed that you featured in the BBC's Friday Night is Music Night Marvin Hamlisch tribute a few years ago, conducted by a friend and hero of mine, the Broadway arranger and musical director Larry Blank.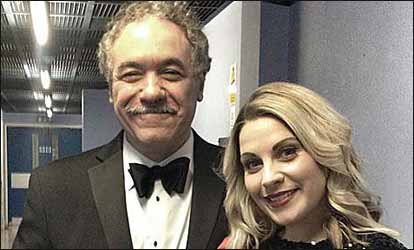 LD: Ah the lovely Larry Blank! He's been completely wonderful! I'd wanted to do Friday Night is Music Night for so long, and they finally invited me for the Marvin Hamlisch tribute, which was really stunning - beautiful, beautiful music. And that's where I met Larry, who's been such a support ever since, giving me some brilliant advice, and we're hoping to work together in the future. He came to see Wicked a couple of weeks ago, and it was lovely to see him.
IG: Yes, we seem to miss each other when he's in London, I'm in LA! Who were your musical heroes?
LD: Very pop based I'm afraid to say! When I was growing up it was Whitney Houston, Tina Turner, Celine Dion, Mariah Carey - all of those big divas - I just loved singing those huge songs in my bedroom. And then as I got into musical theatre, the likes of Ruthie Henshall, Linzi Hately, Sally Ann Triplett - a huge mixed bag really, which influences the type of music I like to sing in my concerts. Very often I'll mix it up a bit, so if I do contemporary music, it's in a theatrical style.
I love Annie Lennox and Alison Moyet too - their music is so dramatic and theatrically sounding - it's easy to make that blend in with musical theatre.
IG: So, now you're off on tour. I know you've toured before, in Jekyll and Hyde, but is this your first solo tour?
LD: This is my first ever concert tour - I'm so excited! I can't believe it's actually happening. We start the tour on the 13th February next year [2014] in Somerset, and we've already started working on the show. I just want it to be fun, and a nice mix of music, all done in a theatrical style. I love chatting as well as singing, so hopefully the audience will have a really good time.
IG: Where do you start with the planning of a concert. There's such a plethora of music now that people love to hear. How do you turn that into a set list that you want for your concert?
LD: It's really difficult, and I go round and round in circles. Because it's my first concert tour, people obviously want to hear me sing songs from musicals that I've done, or songs that I'm linked to in some way, be it through concerts or albums or musicals. So there will be a little something from all of those in there. But I also want to bring in something from my background, and what I grew up listening to, so there will be definitely lots of music from those Divas too. There will be something for everybody, but in a style that people are expecting.
Obviously on my new album It's Time, there's these huge orchestrations, and you can't tour a full orchestra, so it's very much brought back to a small band. It's all about the music and the voice - quite an intimate evening. I'm very excited.
IG: Great, I can't wait, and we'll be reviewing the concert on the website next year. You mentioned there the CD coming out too. Will that be a similar mixed collection as you are performing on the concert?
LD: Yes, it will. Just to mention a few tracks, there's 'Home' from The Wiz, 'What I Did For Love' by the wonderful Marvin Hamlisch we mentioned earlier, 'The Perfect Year', 'Send in The Clowns' and' A New Life', from Jekyll and Hyde. And I've also done a beautiful duet from a new musical called Once with Shayne Ward. It's a gorgeous song, and he sounds wonderful on it too.
IG: Thanks Louise, and all the best for the concert tour next year, and the release of the album.
Louise Dearman's It's Time Tour starts on the 13th February 2014.
Click here to visit Louise's official website and see all her upcoming tours.
It's Time is released on CD and MP3 by Silva Screen Records on 02 December 2013
Click here to buy this on CD - Amazon.co.uk
Click here to buy this on MP3 - Amazon.co.uk

With thanks to Jenny Vanderwef
Return to...