Karun: Misadventures on Iran's Longest River

Presenters: Tom Allen and Leon McCarron
Director: Rhys Thwaites-Jones
Certificate: TBC
Opens 16 November 2015
Karun: Misadventures on Iran's Longest River (55 min 32 sec) is a documentary adventure film by Tom Allen and Leon McCarron, both film makers and adventurers. The film was funded through Kick Starter.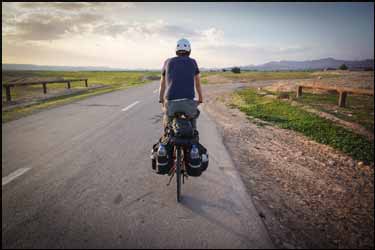 The two men set out to navigate the Karun River, the longest in Iran, from its source down to the Arabian Gulf as they go from a trickle to a torrent. The film appears to have been made with a mixture of head cams and hand held cameras and for the most part the result is very professional.
The trip was helped by Allen's ability to speak the language, not that this kept them off the polices radar and while they don't seemed to have been unduly harassed, they were kept an eye on, running around Iran with a camera is a possible recipe for disaster.
What the film is able to demonstrate, apart from the absurd endurance of the two film makers, was the ever changing landscape through which the river flowed. Secondly, and in defiance of some of our right wing press, the two seemed to have been met with nothing but kindness by the locals who regularly invited the two into their homes and lives.
Of course, the film was going to stand or fall on how well you connected with Allen and McCarron as narrators. Both men seem pleasant if a little insane, not at all bad company for an hour. Hopefully, the film will be able to both entertain and dispel more than a few prejudices against the ordinary Iranian people.
7
Charles Packer