Micro Scalextric
James Bond 007 Race Set
Aston Martin DB5 vs V8

Manufacturer: Scalextric
RRP: £69.99
Click here to buy - uk.scalextric.com
Ages: 4+
5 055286 693762
Item Number: G1171
Available now
Aston Martin has been James Bond's vehicle of choice throughout the film franchise, and the Micro Scalextric James Bond 007 Race Set celebrates his most iconic choices: the Aston Martin DB5 and Aston Martin V8. This set features over 3.5 metres of track, with 9 track layouts which includes a ramp and the new lap-counter booby trap track piece...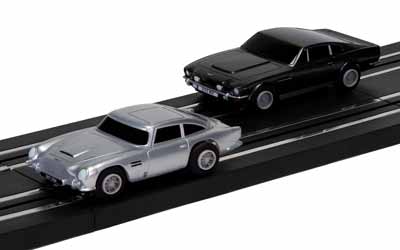 The Micro Scalextric James Bond 007 race set allows you to pit the Aston Martin DB5 against the Aston Martin V8
Back when I was a nipper, when the world was in black and white, Scalextric was all the rage but I was too young to really be aware of it. One Christmas Santa brought me and my brother a Matchbox Powertrack set and we raced for hours and hours. I happened to go over to a friend's house shortly after and they'd been given a Scalextric set. I didn't really like it. The tracks seemed to be a pig to put together and the cars flew off really easily at almost every corner.
I realised that they were very different slot racing companies and both were equally enjoyable, but I preferred the smaller scale of Powertrack. Of course, only Scalextric is still producing new tracks and cars, but their Micro Scalextric kits are roughly the same size and have the same feel as those '70s Powertrack sets that I loved so much.
The latest addition to this range is the James Bond: 007 Race Set: Aston Martin DB5 vs V8. This battery powered set (which requires 6 x AA batteries - not included) comes with plug and play technology that makes the track quick and simple to assemble and disassemble. It can also be stored neatly back into the box that it came in. It includes over 11 feet of track, with 9 track layout suggestions (although you can create your own), including a ramp, the new lap counter booby trap track piece and the two aforementioned cars.
I took this to a family gathering where there were young kids, who I knew would quickly get bored of the adult event, and it was an instant hit. One of the boys loves cars, but had never seen a slot racing set before. It was easy to put together and I loved the fact that you can set this up anywhere - no need to be near a mains outlet. And the power control switch, which allows you to slow the speed down by 25%, 50% or 75%, means that even the youngest children can play without sending the cars flying off around the corners. And, as they grow into playing with it, you can change the speed to provide them with a challenge.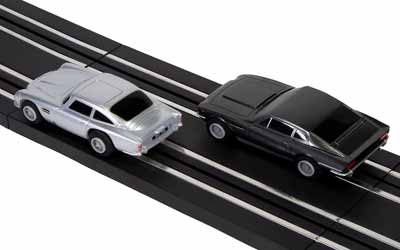 This battery powered set comes with plug and play technology that makes the track quick and simple to assemble
You can buy additional track and cars in 1:64 scale if you decide you need a much bigger circuit. But as a starting set, this is pretty much perfect, especially if you don't have the room for a standard size Scalextric set.
It comes with two spare blades, which is useful as the booby trap will see your cars getting a bit of a pounding and if they are constantly flying off the track eventually the blades will break. The counter is useful for keeping track of how many laps you do and the booby trap piece is great for adding a bit of extra excitement, because you never quite know when your car will be hurled into the air. The ramp also adds an extra challenge as if you're going to fast it's easy to fly off into the air.
This is a great all rounder starter set if you're looking to get your kids into the exciting world of slot cars.
9
Nick Smithson