Star Wars
The Black Series
The Mandalorian Electronic Helmet

Manufacturer: Hasbro / Disney
RRP: £119.99
Ages: 14+
Item Number: F0493
5 010993 800933
Available now
The Mandalorian is battle-worn and tight-lipped, a formidable bounty hunter in an increasingly dangerous galaxy. Fans can imagine the biggest battles and missions in the Star Wars saga with premium roleplay items from Star Wars The Black Series. Featuring a removable tactical light and interior welcome lights, fans can imagine what it was like for this bounty hunter to suit up to track down his targets, or to protect a mysterious alien pursued by bounty hunters on behalf of Imperial interests...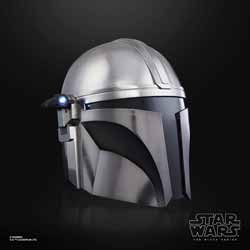 The emphasis is on screen accurate (on a budget)
The Mandalorian helmet is one of the latest in Hasbro's range of Black Series Star Wars universe collectibles. As with the previous releases the emphasis is on screen accurate (on a budget) and the Mando helmet doesn't disappoint.
I had this item on preorder, knowing that previous helmets had a tendency to sell out quick before additional stock was released into the market months later. For the price you're really not going to get as good a quality item as this. It looks authentic, having a metallic finish, and feels heavy too.
As with other helmets in the range, it comes with a removable plastic adjustable headband that insures it will fit the smallest of heads. Obviously if you're an adult you'll need to remove this in order to get the correct fit.
The electronics on this helmet are a little disappointing when compared to other releases. We have a removable tactical light as well as small red lights inside the helmet which turn on when the helmet is held upside down. The light can be removed and an additional part can be placed over the gap in order to cover up the fact that it was even there.
Whether you're the sort of fan who is looking for a new cosplay costume or, like me, someone who just likes to display these, The Mandalorian Black Series helmet is another quality item that won't break the bank.
9
Darren Rea