You've seen the TV series, now buy the Doctor Who action figures, produced under licence from the BBC by Character Options. This collection reproduces some of the most memorable characters from the new television series, as well as introducing the 10th Doctor...
Character Options has long been synonymous with quality Doctor Who products. Fans of Who have come to know that Character Options name on a product usually means high quality merchandise. Thankfully the company's new line of Doctor Who toys build on that reputation.
The Doctor in Trenchcoat action figure pack is good value for money. You get the Doctor in his suit, with an overcoat, as well as a sonic screwdriver accessory.
For such a low price point, these action figure are well detailed and will find pride of place in any young child's toy box, or serious older fan's collection. Whether you are buying these to play with, or display in it's packaging, you can't go wrong with this toy.

Pete Boomer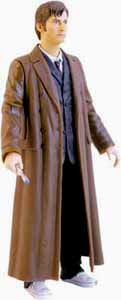 Buy this item online
We compare prices online so you get the cheapest deal!
(Please note all prices exclude P&P - although Streets Online charge a flat £1 fee regardless of the number of items ordered). Click on the logo of the desired store below to purchase this item.
| | |
| --- | --- |
| | £7.99 (Amazon.co.uk) |
| | |
| | £6.99 (BBCshop.com) |
| | |
| | £6.99 (Argos.co.uk) |
All prices correct at time of going to press.