To coincide with the film airing at cinemas from July 2004, FEVA is producing a range of die cast vehicles and action playmat. Thunderbirds 1,2,3,4, 5 and FAB 1 shall be replicated into collectable super fast, highly detailed metal mini die cast vehicles with special collector cards...
These die cast vehicles are available in single blister packs (RRP £3.99) and boxed sets of 3 vehicles (RRP £9.99).
One of the greatest things about Thunderbirds is the rescue craft and with a new, live-action movie about to arrive on cinema screen nationwide we're soon going to be inundated with merchandising, including a range of replica vehicles in various sizes. Amongst them are two sets of die cast models from F.E.V.A. Set one includes Thunderbirds 2 and 4 and FAB1, while the second set feature Thunderbirds 1, 3 and 5.
Purists may not like the redesigned look of International Rescue's craft but there's no doubting that these little vehicles are both well made and highly detailed. The only slightly strange thing about the six toys is a 'pull back and go' motorised action that seems a little retro for a modern audience of preteen consumers.
Also, the fact cards included in each pack - one for each vehicle - are pretty dull affairs and the on-pack graphics are equally uninspired. These minor quibbles aside, these two F.E.V.A. sets are going to prove a 'must have' purchase for Thunderbirds fans of all ages. They're FAB...
Anthony Clark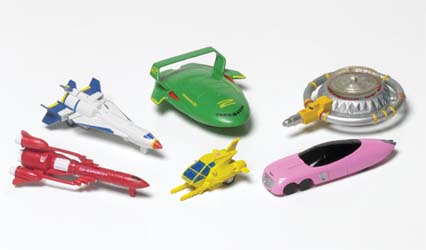 Buy this item online
We compare prices online so you get the cheapest deal!
Click on the logo of the desired store below to purchase this item.
£9.99 (Amazon.co.uk)
Thunderbirds pack 1
(Contains Thunderbirds 2 and 4 and FAB1)
Other stockist of this item include: Argos, Toys 'R' Us, Woolworths and all good toy shops
All prices correct at time of going to press.