The object is simple - bounce the balls off the trampoline and into the target. The challenge is to score the highest points in 30 seconds. Players can compete for the highest score with three exciting games 30-second Blitz, 25-point Rush and Bulls-Eye Ball Ace or impress friends by honing their skills first with the practise mode...
Bulls-Eye Ball is a very simple concept. In fact it's based on that old, pre-electronic, amusement arcade game that the Americans call skeeball. All you have to do is get the balls in the holes and score points - simple.
However, Hasbro has upgraded and enhanced this old classic by not only using a trampoline style format, rather than the slope that arcade goers will be familiar with, but the company has also included electronic sounds and lights.
The biggest pain with this game is that the ball bearings have a habit of flying all over the place. You are highly recommended to play this in the middle of your living room, otherwise you'll spend your time looking behind cupboards and other furniture looking for your balls.
While this game is aimed at children, you can almost bet that they will become pretty bored with it after a few days. However, the older generation - those of us that still remember the original Space Hopper when it was first released - will get hours of fun out of this.
Pete Boomer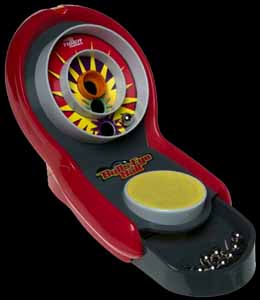 Buy this item online
We compare prices online so you get the cheapest deal!
Click on the logo of the desired store below to purchase this item.
| | |
| --- | --- |
| | £18.49 (Amazon.co.uk) |
| | |
| | £19.99 (Index.co.uk) |
| | |
| | $19.99 (Amazon.com) |
All prices correct at time of going to press.