Join the Tracy family, Lady Penelope, and all your other favourite Thunderbirds characters in this special edition of Monopoly. Race around the board on an International Rescue mission with one of the die-cast Thunderbirds vehicles, and remember to stay cool under pressure! You can play the standard Monopoly game, buying and selling vehicles, characters and locations, or you can add the special evil Hood gameplay to make your mission even more exciting...
Everyone has (or should have) a copy of Monopoly hiding away somewhere in their house. It's an old favourite and you can't go far wrong - not even when you mix it with the cinematic disaster that was Thunderbirds.
In this edition you can fly, cruise and sail around the board, in a bid to save the world, using one of the six counters included: Thunderbirds vehicles 1, 2, 3, 4, 5 and FAB1.
And it's not just the counters that have a Thunderbirds theme. The money has an International Rescue flavour, as do the properties. Tracy Island is the most expensive property on the board in place of Mayfair and chic socialite Lady Penelope, along with her butler and chauffeur Parker and her expensive Rolls Royce Fab1, take up residence on the boards pink space. Brain's assistant Tin Tin inhabits the unpopular brown space usually occupied by Old Kent Road.
Nuclear Power and Rocket Fuel replace the classic game's Electric Company and Water Works and the infamous Chance and Community Chest cards have been converted to Red Missions and Blue Missions.
The Hood also makes an appearance in the game, with players deciding whether or not he should interfere with their mission.
Thunderbirds fans will no doubt snap this edition up - and who can blame them. The International Rescue theme certainly helps to modernise an old classic.

Pete Boomer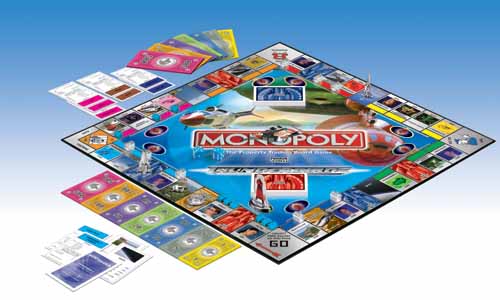 Buy this item online
We compare prices online so you get the cheapest deal!
Click on the logo of the desired store below to purchase this item.
| | |
| --- | --- |
| | £19.99 (Amazon.co.uk) |
All prices correct at time of going to press.