Everyone's favourite blue hedgehog is back and this time he's faster than ever. Kids love watching the show, playing the game and now they can take their favourite characters home thanks to F.E.V.A's new range of Sonic X 10" collectable talking action figures...
The Sonic X range of 10" talking action figures is pretty impressive. Of the three characters in the range (Sonic, Tails and Knuckles) each comes with a display base to match their main colour (blue, yellow and red respectively). All three have articulated arms and legs and all feature sound bites from the animated TV series.
I was a little disheartened to discover that the characters only utter two phrases each. For Sonic it's:
"Oh Yeah! This is Happening!"
"Ready to roll champ? Lets go!"
I couldn't understand why more phrases were not included especially when there are so many that could have been added.
This action figure is made from good, strong plastic and is sure to withstand any rough play from younger children. But it is as an ornament, placed on it's base, that this figure is really best suited - and should take pride of place on any Sonic fan's dressing table.
The RRP (£15) is incredibly cheap when you consider what you get. For £45 you could buy all three, and that's not bad at all. It's just a shame that more wasn't made out of the sound.

Nick Smithson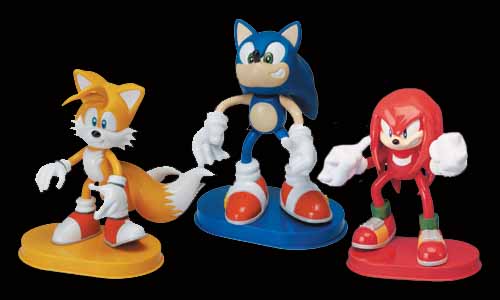 Buy this item online
We compare prices online so you get the cheapest deal!
(Please note all prices exclude P&P - although Streets Online charge a flat £1 fee regardless of the number of items ordered). Click on the logo of the desired store below to purchase this item.
| | |
| --- | --- |
| | £14.97 (Amazon.co.uk) |
All prices correct at time of going to press.