Feva's award winning range of Air Hogs toys has an exciting new addition. Staying on the ground is the Super Bike motorcycle, powered by the R.A.I.D. II air pressure engine. These bikes can race up to 120 feet and rip up the track at 150 MPH scale speed for wheelie-poppin' thrills...
For those that are familiar with the Air Hogs range of vehicles, the Pop-A-Wheelie Motocross Bike will be a bit of a surprise. Air Hogs leaves the sky ("Air Hogs" describes the concept of compressed air as a propellant rather than the fact that the company's vehicles have all previously been air-based) and uses its technology to bring us land-based air propelled vehicles.
I've never been a huge fan of air-based vehicles. While I recognise that the Air Hogs range of planes and helicopters have all been exceptionally great value for money, I'm more of a land-based vehicle guy. So, I was pleased to learn that Air Hogs have finally released something I could play with, without crashing into the ground every two minutes (yes, I am that uncoordinated).
When I was a young lad (when the dinosaurs roamed the Earth... etc.) I had an Evil Knevil stunt bike. You slotted the bike onto a charger, wound the handle and sent it shooting off at breakneck speed. This Pop-A-Wheelie Super Bike reminded me of that old toy - although, obviously updated for a modern audience, and using much better technology.
This vehicle is incredibly easy to use. Once the bike is secured onto its docking station, a pump fills an internal chamber. As the pressurised air is released, it powers an actual cylinder and piston engine. And, thanks to the inclusion of a wheelie bar, this bike can also perform cool wheelies.
The bike is constructed of good solid plastic and will take quite a bit of wear and tear.
Sad as I am, I really enjoyed making ramps for this toy. And, when you consider this is only £15 to buy, this is an incredibly cheap way to entertain the children in your family. They can even play with it indoors as a push along vehicle. What more incentive do you need to rush out and buy one?

Darren Rea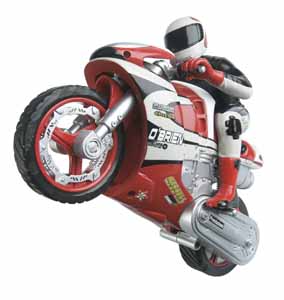 Buy this item online
We compare prices online so you get the cheapest deal!
Click on the logo of the desired store below to purchase this item.
| | |
| --- | --- |
| | £14.99 (Amazon.co.uk) |
Other stockist of this item include: Toys R Us and all good toy shops.
All prices correct at time of going to press.