Follow us on Facebook by clicking the image above
News - November
30/11/17 - Medici: Masters of Florence DVD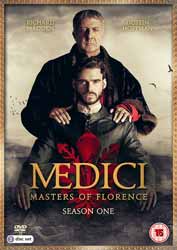 Acorn Media International is to release Medici: Masters of Florence on DVD on 11 December
Dustin Hoffman stars alongside Game of Thrones favourite Richard Madden in the scintillating, epic, historical drama Medici: Masters of Florence, about Italy's most powerful and influential family and banking dynasty.
Following its run on Netflix, Medici: Masters of Florence Season One arrives on DVD courtesy of Acorn Media.
The House of Medici, one of the most powerful Florentine families and bankers to the pope, are in turmoil. After head of the Bank of Medici, Giovanni (Hoffman), is mysteriously poisoned, his son Cosimo (Madden) must take control. Harbouring the dangerous secret that his father was murdered, Cosimo must fight to protect all his family has worked so hard to attain. As head of the Signoria, with attacks coming from all sides and war looming, he needs to decide whether to side with the nobility, as Giovanni would have done, or to step out from his father's shadow.
Full of intrigue and suspense, Medici: Masters of Florence follows the twists and turns through war, plague and even exile as the family attempts to hold on to power.
Click here to buy this DVD - Amazon.co.uk
29/11/17 - Playstation Anthology published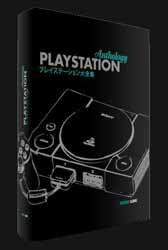 Geeksline has published the Playstation Anthology which will entertain and inform fans of the original Sony console.
In celebration of a console that brought wonder into the lives of so many, and a brand that reshaped the whole entertainment industry, the authors and Geeks-Line retrace Sony's incredible journey.
Read about the creation of the company following World War II, to the machine's retirement in the early 2000s. Featuring 26 interviews with important figures, from throughout the era, recount their experiences with unabashed honesty, painting a detailed picture of the great venture led by Ken Kutaragi.
Much like the successful Nintendo 64 Anthology book, the PlayStation Anthology is unique in both form and content. The PlayStation Anthology, hardback book, offers a wealth of fascinating facts and insight into the development of the PlayStation console, the people behind the machine, the games, along with the complete collector's guide to (*) 4500 titles released in every territory.
To fully appreciate the scale of the PlayStation phenomenon, readers will be given an insight in its genesis, the context in which it was developed, and understand the commercial and marketing power of Sony itself.
* (Only the Collector's Editor offers the Collector's Guide)
Click here to buy this book - Amazon.co.uk
28/11/17 - Augmented Reality Gun
VR Insane has released an Augmented Reality Gun onto the market.
Blast into the future with this amazing Augmented Reality Blaster Gun. Whether you are a gadgeteer or a gamer, then this item will trigger your love for technology!
Simply insert batteries, plug in your smartphone and download the app. The app will keep track of your ammo and health, it'll set you objectives and give you 3 different difficult levels. Immerse yourself in a virtual world and take down the enemy with the ultimate gaming experience you can get in your very own home!
Simply plug your phone into the device and shoot at aircrafts that attack, you'll have your very own unique gaming experience with this futuristic firearm. Lightweight design means you can play anywhere and with 40 hours of battery life.
Crafted from wood this sturdy gamers equipment is compatible with Android or iOS device. Transform your bedroom into a battle ground or space invaders warzone within minutes.
Click here to buy - prezzybox.com
Click here to buy - Amazon.co.uk
Click here to buy this DVD - Amazon.com
27/11/17 - The L-Shaped room Blu-ray and DVD
StudioCanal has released a newly restored version of the British classic, The L-Shaped Room on Blu-ray, DVD and digital download.
Written and directed by Bryan Forbes (Whistle Down the Wind, The Stepford Wives, The Raging Moon) , this bittersweet portrayal of the steamy side of life in 1960s London has been restored in 4K by Sony Pictures Entertainment In collaboration with the BFI 's Unlocking Film Heritage Programme.
On its release in 1962, The L-Shaped Room attracted international acclaim for its star Leslie Caron (Gigi) who was awarded both a Golden Globe® and a BAFTA® for her portrayal of Jane.
A young French woman pregnant with an illegitimate child, Jane arrives at her dingy Notting Hill lodgings to have her child in secret but finds love and friendship among the assortment of outsiders living in the boarding house - all brought to life by Forbes' sensitive ear for dialogue.
Click here to buy this Blu-ray - Amazon.co.uk
Click here to buy this DVD - Amazon.co.uk
24/11/17 - Tom Baker returns as The Doctor
Old School Doctor Who fans will be cheering the news that Tom Baker has returned to film a special appearance on a new Doctor Who project.
The 83-year-old actor donned his Doctor's trademark stripy scarf to film scenes for to completed the 1979 Who story Shada.
The original story, written by Douglas Adams, was never completed because of strike action at the BBC.
The story have now been released by BBC Worldwide, with the original footage combined with new colour animations and voiceovers to complete the story. In the new scene, Baker was filmed at BBC Television Centre in London on the set of the original TADDIS from 1979.
Click here to buy this Blu-ray - Amazon.co.uk
Click here to buy Limited Edition Steelbook Blu-ray - Amazon.co.uk
Click here to buy this DVD - Amazon.co.uk
Click here to buy this digitally - Amazon.co.uk
23/11/17 - Before I Fall score release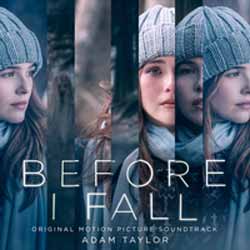 Lakeshore Records is to release Adam Taylor's score for Before I Fall on 24 November.
Samantha Kingston (Zoey Deutch) seems to have it all: popularity, a loving boyfriend (Kian Lawley) and a seemingly perfect future. Everything changes in the blink of an eye when she dies in a car crash but then magically wakes up to find herself reliving the same day over and over again.
As Samantha tries to untangle the mystery of a life derailed, she must also unravel the secrets of the people closest to her and discover how the power of a single day can make a difference

22/11/17 - Tumball a game of strategy and skill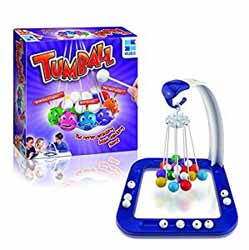 Megableu has released Tumball - the nerve-wracking bead-stacking game.
Each player receives an equal number of white beads. Take turns, stacking beads one by one into the coloured cluster... watch as it shakes… shimmers… and slowly separates! Keep a steady hand and hold your nerve!
One slip or a bead in the wrong spot and you'll bring the lot crashing down - that's Tumball!
Find the perfect balance with Tumball. Observe the cluster of balls, suspended by nothing but thread. How many balls can you balance on them, before the cluster separates? Go ahead, make your move, but be careful, don't tremble or the balls will tumble!
For 2 to 4 players. Age: 6 years+.
Click here to buy this game - Amazon.co.uk

21/11/17 - The Work comes to DVD
Following its highly acclaimed cinema release Jairus McLeary and Gethin Aldous' award-winning feature documentary The Work arrives on UK DVD courtesy of Dogwoof on 27 November.
California's notorious Folsom Prison – immortalised by Johnny Cash – houses some of the toughest inmates in the US prison system. But it has also become the site of a groundbreaking experiment that offers its prisoners a sense of hope – and helps those from the outside world make sense of their lives too.
This unique four-day group therapy session is charted in The Work, a remarkable film that looks in on prisoners and civilians going through an intense session that is as mentally tough as Folsom is physically brutal. And as vicious and merciless as this world is, the sessions offer prisoners and those from outside the walls a chance at rehabilitation, redemption and saviour.
Wowing audiences at this year's Sheffield Doc/Fest and earning the prestigious Audience Award, following its Jury Prize win at SXSW 2017, The Work is an unforgettable documentary that will leave viewers moved and shaken in equal measure. Purely observational, McLeary goes inside Folsom Prison to document a four-day group therapy session between inmates and men from the outside. The result is a raw an intimate account of redemption and rehabilitation.
Click here to buy this DVD - Amazon.co.uk

20/11/17 - The Slipper and the Rose Blu-ray
Second Sight Video has released The Slipper and the Rose on Blu-ray.
The enduring tale of Cinderella comes to life as never before in The Slipper and the Rose.
Featuring an all-star cast including Richard Chamberlain (Dr Kildare), Gemma Craven (The Hole) and Annette Crosbie (Dad's Army), this much-loved British musical, directed by Bryan Forbes (Chaplin) includes a host of fantastic extras including brand new interviews with Annette Crosbie and Rosalind Ayres.
The King of Euphrania is growing increasingly troubled that his son and heir, Prince Edward, has not yet taken a wife. And so a plan is hatched, to hold a royal ball and invite every princess in the land, despite the Prince's protests. Meanwhile Cinderella lives in misery, her father has died and her wicked stepmother has made her the house servant. Help is at hand however with the arrival of her fairy godmother and a magical invitation to the ball. Scoring an impressive audience score of 90 per cent on Rotten Tomatoes, The Slipper and The Rose is the perfect family film for Christmas and beyond.
Click here to buy this Blu-ray - Amazon.co.uk

17/11/17 - Soundtrack for Saw Anthology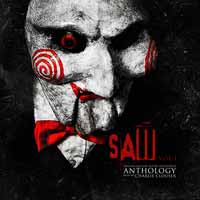 Lakeshore Records will release the soundtrack collections Saw Anthology V.1 and V.2 digitally on 24 November and on CD/LP later this year.
These collections feature the beloved original score from all 8 films in the Saw anthology. Volume 1 contains music from Saw 1 through 4 while volume 2 features music from Saw 5 through 7 and Jigsaw, which will be released in theaters the same day. All of the original music and arrangements are from composer Charlie Clouser.
Click here to buy the Vol 1 soundtrack digitally - Amazon.co.uk
Click here to buy the Vol 2 soundtrack on CD - Amazon.co.uk
Click here to buy the Vol 2 soundtrack digitally - Amazon.co.uk

Click here to buy the Vol 1 soundtrack digitally - Amazon.com
Click here to buy the Vol 2 soundtrack on CD - Amazon.com
Click here to buy the Vol 2 soundtrack digitally - Amazon.com

16/11/17 - Stephen King Soundtrack Collection
Varèse Sarabande Records has released a new 8-CD box set celebrating the music of four classic Stephen King titles - Dreamcatcher, Firestarter, The Stand and The Shining.
The limited edition Stephen King Soundtrack Collection box set (1500 units) is designed to pay tribute to Stephen King paperbacks with a 24-page bound booklet.
Two beloved titles are featuring expanded editions. The 1994 post-apocalyptic mini-series The Stand, earned prolific composer W. G. Snuffy Walden an EMMY® nomination that year. 2003's Dreamcatcher features original music by Academy Award® nominee James Newton Howard. Both are being released as 2-CD deluxe editions.
One of the earlier Stephen King books to be adapted into film, Firestarter features original music by Tangerine Dream – and is being reissued for the first time in almost 15 years.
The 1997 three-part mini-series The Shining is being presented on a 3-CD set, one disc for each night of the special event series. The origin of the miniseries is attributed to King's dissatisfaction with the 1980 adaptation directed by Stanley Kubrick. The mini-series was shot at The Stanley Hotel (Estes Park, CO) – which was the hotel that inspired King to write the book in the first place. The Nicholas Pike-penned score is being released commercially for the first time. Housing the collection is a 24-page bound booklet, featuring liner notes by Randall D. Larson with original art by Shawn Conn.
Click here to buy this soundtrack collection - varesesarabande.com

15/11/17 - Lady Bird soundtrack release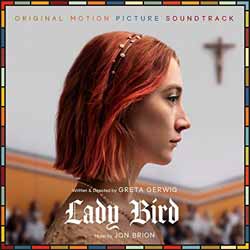 Lakeshore Records will release Lady Bird - Original Motion Picture Soundtrack digitally on 17 November with CD and vinyl versions forthcoming.
The soundtrack features an original score by Grammy-nominated singer-songwriter/composer Jon Brion (Magnolia, Eternal Sunshine of the Spotless Mind).
The movie centres around Christine "Lady Bird" McPherson (Saoirse Ronan), who fights against but is exactly like her wildly loving, deeply opinionated and strong-willed mom (Laurie Metcalf), a nurse working tirelessly to keep her family afloat after Lady Bird's father (Tracy Letts) loses his job.
Set in Sacramento, California in 2002, amidst a rapidly shifting American economic landscape, Lady Bird is an affecting look at the relationships that shape us, the beliefs that define us, and the unmatched beauty of a place called home.
Click here to buy the soundtrack digitally - Amazon.co.uk

Click here to buy the soundtrack digitally - Amazon.com
14/11/17 - The Wall is released on Blu-ray & DVD
StudioCanal is to release the action war film The Wall on digital download from 17 November 2017 and on Blu-ray and DVD from 20 November.
From Doug Liman, director of The Bourne Identity, American Made, and Edge of Tomorrow, comes a deadly psychological thriller and a war film like no other.
U.S. Sergeants Allen Isaac (Aaron Taylor-Johnson, Nocturnal Animals, Godzilla, Avengers: Age of Ultron) and Shane Matthews (WWE's John Cena) are investigating a pipeline construction site in a desert of Iraq. When he heads into open space, Matthews is shot by an Iraqi sniper, leaving Isaac to take cover and form a rescue plan behind an unsteady, crumbling wall. What unfolds is as much a battle of will and wits as it is of lethally accurate marksmanship in the toughest of conditions.
Click here to buy the Blu-ray - Amazon.co.uk
Click here to buy the DVD - Amazon.co.uk
Click here to buy digitally - Amazon.co.uk
13/11/17 - A Bad Moms Christmas soundtrack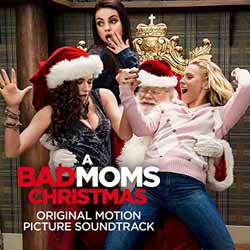 Sony Music release of A Bad Moms Christmas (Original Motion Picture Soundtrack) digitally on 10 November. The album features a compilation of music from the film including three songs especially written for the movie by composer Christopher Lennertz.
A Bad Moms Christmas follows our three under-appreciated and over-burdened women as they rebel against the challenges and expectations of the Super Bowl for moms: Christmas. And if creating a more perfect holiday for their families wasn't hard enough, they have to do all of that while hosting and entertaining their own mothers. By the end of the journey, our moms will redefine how to make the holidays special for all and discover a closer relationship with their mothers.
Track list:
01 - Blue Christmas – Lumineers
02 - Love Me Like You (Christmas Mix) – Little Mix
03 - Run Run Rudolph – Kelly Clarkson
04 - 12 Days of Christmas – Colbie Caillat feat. Aloe Blacc
05 - Like That – Fleur East
06 - We Wish You a Merry Christmas – Moscow Symphony Orchestra
07 - Greenlight – Pitbull feat. Flo Rida & LunchMoney Lewis
08 - Appetite – Leo Soul
09 - Be Mean – DNCE
10 - Jingle Bells – Gwen Stefani
11 - What Christmas Means to Me – Jacob Luttrell
12 - Merry Christmas Baby – Jason Eskridge
13 - Be Your Santa Claus – Charles Jones
14 - Oh, My F'ing God! – Christopher Lennertz
15 - Let's Go Smack Some Wieners, Bitch! – Christopher Lennertz
16 - Your Mom Saw My Boner – Christopher Lennertz
Click here to buy the soundtrack digitally - Amazon.co.uk

Click here to buy the soundtrack digitally - Amazon.com
10/11/17 - The Son of Bigfoot strides onto DVD
Studio Canal is to release The Son of Bigfoot on DVD and digital download on 20 November.
Adam, a thirteen-year-old outsider, sets out on a daring quest to uncover the mystery behind his long-lost dad - only to discover he is the legendary Bigfoot!
As father and son start making up for lost time, Adam soon discovers that he too is gifted with superpowers beyond his imagination. But little do they know, HairCo. the giant corporation Bigfoot is hiding from, is hot on their tails as Adams tracks have led them straight to him!
The Son of Bigfoot is the latest film to come from nWave Pictures, a Belgian-American animation studio who have produced a number of modern family classics including Robinson Crusoe (2016), The House of Magic (2013) and A Turtle's Tale: Sammy's Adventures (2010), collectively selling over 1 million units to date.
Click here to buy this on DVD - Amazon.co.uk
09/11/17 - Star Wars 40th anniversary vinyl LPs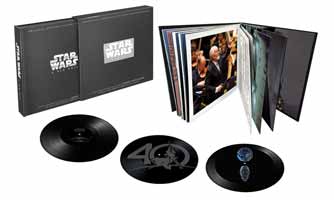 Disney Records is celebrating the 40th anniversary of Star Wars: A New Hope with the release of a special 3-LP release on vinyl on 01 December.
John Williams's original score will be housed across 3-LPs on 180-gram vinyl, complete with a 3D hologram of the Death Star on disc three, along with the film's 40th anniversary logo on the opposite side.
The release also comes with a behind-the-scenes book featuring rare photos from production and essays looking back at the legacy of the film score.
Click here to buy the soundtrack digitally - Amazon.com
08/11/17 - Alias Grace soundtrack release
Lakeshore Records has released Mychael Danna and Jeff Danna's original score for Alias Grace.
"Alias Grace is based on a novel of the same name written by celebrated author Margaret Atwood (The Handmaid's Tale) of a true story that took place in Canada in 1843," said Mychael Danna. "We wanted the score to mirror the formal rigidity of British Colonial 19th Century society."
The story of Alias Grace follows Grace Marks, a poor, young Irish immigrant and domestic servant in Upper Canada who, along with stable hand James McDermott, was convicted of the brutal murders of their employer, Thomas Kinnear, and his housekeeper, Nancy Montgomery, in 1843. James was hanged while Grace was sentenced to life imprisonment.
Grace became one of the most enigmatic and notorious women of 1840s Canada for her supposed role in the sensational double murder, and was eventually exonerated after 30 years in jail. Her conviction was controversial, and sparked much debate about whether Grace was actually involved in the murder, or merely an unwitting accessory.
"We chose a chamber group of virtuosic musicians to lay out the complicated fabric of the musical world of Alias Grace," Jeff Danna explained. "There was interwoven string parts, often with one player per part in the traditional way, coloured by fleeting woodwinds, piano and even the occasional church organ - all of it underlined with a dark thread of mystery and growing doom as we slowly move towards the inevitable violence of the crime."
Click here to buy the soundtrack digitally - Amazon.co.uk

Click here to buy the soundtrack digitally - Amazon.com
07/11/17 - Murder on the Orient Express score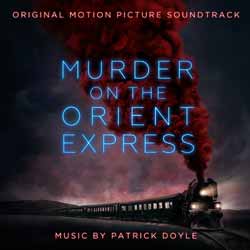 Sony Classical has released Patrick Doyle's original score for Murder on the Orient Express on CD and digital download.
The soundtrack also includes a song performed by Michelle Pfeiffer with lyrics by Kenneth Branagh.
Patrick Doyle says about the score: "The outstanding performances in the film were inspiring in helping me compose its many motifs and themes. The song Ken and I wrote came much later in the process – it features the harmonies, thematic material and heart of the film – allowing it to grow organically out of the score at the end of the movie."
What starts out as a lavish train ride through Europe quickly unfolds into one of the most stylish, suspenseful and thrilling mysteries ever told. From the novel by best-selling author Agatha Christie, Murder on the Orient Express tells the tale of thirteen strangers stranded on a train, where everyone's a suspect. One man must race against time to solve the puzzle before the murderer strikes again.
Kenneth Branagh directs and leads an all-star cast including Penélope Cruz, Willem Dafoe, Judi Dench, Johnny Depp, Michelle Pfeiffer, Daisy Ridley and Josh Gad.
Click here to buy the soundtrack on CD - Amazon.co.uk
Click here to buy the soundtrack digitally - Amazon.co.uk

Click here to buy the soundtrack on CD - Amazon.com
Click here to buy the soundtrack digitally - Amazon.com
06/11/17 - Dark Night comes to DVD
Thunderbird Releasing is set to release Dark Night on DVD on 11 November.
Loosely based on real-life events that took place in 2012 during a midnight film screening, the latest feature from writer-director Tim Sutton is a harrowing retelling of a fateful day told in an intense visual style that grips you from start to finish.
Set in a modern-day suburban landscape, the film examines a violent incident that's all-too-recognisable in contemporary America. Over the course of the day, from sunrise to midnight, six strangers – a shooter among them – share in the new American nightmare as events build to a devastating Cineplex massacre.
Click here to buy the DVD - Amazon.co.uk
03/11/17 - New World gets Blu-ray/DVD release
Eureka Entertainment is to release New World, a slick edge-of-your-seat thriller, in a Dual Format (Blu-ray & DVD) edition on 15 January.
After receiving much acclaim for his screenplays for both Kim Jee-woon's I Saw the Devil and Ryoo Seung-wan's The Unjust, Park Hoon-jung made the transition to directing and with New World, established himself as one of South Korea's finest directors.
When the chairman of South Korea's largest crime syndicate is killed in mysterious circumstances, a complex and violent struggle for power takes place between the three most powerful figures in the Korean underworld.
Meanwhile the police, led by section chief Kang (Choi Min-sik, Oldboy), have established operation "New World", in an attempt to weaken the syndicate even further. However, Kang's inside man, Ja-sung (played by The Housemaid's Lee Jung-jae), is nearing breaking point after eight years working undercover.
Highly praised upon release as one of the finest gangster films for many years, New World is a slick, edge-of-your seat thriller, and is not to be missed.
02/11/17 - Blue Planet II soundtrack release
Silva Screen Records is to release the soundtrack for BBC One's Blue Planet II on CD (01 December) and digital album (29 October).
Powerful and mesmerising, Hans Zimmer led soundtrack to the latest BBC natural history epic, narrated by David Attenborough.
A sequel to the 2001 series Blue Planet, it took 4 years to complete this seven part new exploration of the underwater worlds, with 125 expeditions across 39 countries and 6000 hours of underwater filming.
With over 120 soundtracks to his credit, Hans Zimmer has been honoured with many accolades, an Academy Award, two Golden Globes, three Grammys, an American Music Award, a Tony Award and The Henry Mancini Award for Lifetime Achievement. His Academy Award nomination for Interstellar marked his 10th Oscar nomination.
The composition is completed by Jacob Shea and David Fleming from Emmy and BAFTA nominated Bleeding Fingers Music.
Click here to buy the soundtrack on CD - Amazon.co.uk
Click here to buy the soundtrack digitally - Amazon.co.uk

Click here to buy the soundtrack digitally - Amazon.com
01/11/17 - Justice League score announced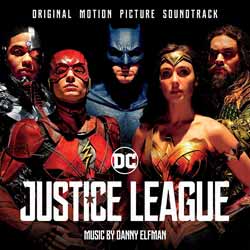 WaterTower Music is to release Danny Elfman's score for Justice League on 10 November.
While bringing his celebrated and unique approach to the Justice League score, Elfman also gives DC fans some special familiar moments. Using memorable character themes to tell the musical story, he incorporates and re-interprets iconic music from past films, including John Williams' Superman theme, Hans Zimmer's Wonder Woman theme, and his own Batman theme.
The soundtrack also features a blistering version of The Beatles' 'Come Together' by electrifying virtuoso guitarist Gary Clark Jr. and Grammy-nominated and multiplatinum producer, musician, and composer Junkie XL; along with Norwegian pop singer/ songwriter Sigrid's haunting and powerful take on Leonard Cohen's 'Everybody Knows', and The White Stripes classic 'Icky Thump'.
Click here to buy the soundtrack on CD - Amazon.co.uk
Click here to buy the soundtrack digitally - Amazon.co.uk

Click here to buy the soundtrack on CD - Amazon.com
Click here to buy the soundtrack digitally - Amazon.com