Follow us on Facebook by clicking the image above
News - December
12/12/17 - The Housemaid Blu-ray/DVD release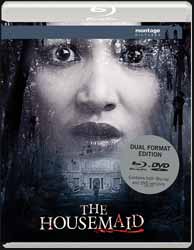 Eureka Entertainment to release The Housemaid, a refreshing update of the gothic-horror genre, as part of its new Montage Pictures range in a Dual Format (Blu-ray & DVD) edition on 19 February.
First-time director Derek Nguyen makes a captivating debut with The Housemaid [Cô Haû Gaí], a haunting gothic romance which blends bold eroticism with a pervasive sense of dread.
Linh is a docile and hardworking poor orphaned girl who comes to Sa Cat seeking a housemaid job. Sebastien Laurent is a French captain and owner of the Sa Cat rubber plantation. For years, the massive mansion is rumoured to have ghosts, particularly those of Camille – Sebastien's late wife—and the mistreated plantation workers. Once Linh comes to Sa Cat, she begins to hear strange sounds, have frightening dreams, and witness bizarre occurrences.
After some time, Linh and Captain Laurent become close to each other and develop a romance. However, their love soon awakens the vengeful souls of Sa Cat plantation.
Click here to buy this Blu-ray/DVD Dual Format - Amazon.co.uk

11/12/17 - Downsizing soundtrack release
WaterTower Music will release the Downsizing - Original Motion Picture Soundtrack via digital retail on 22 December and on CD on 12 January.
The album features the original score by Rolfe Kent and the original song 'A Little Change In The Weather', co-written by Kent and performed by The Swingles.
"Rolfe Kent and I agreed that no matter what the music was meant to express, we wanted it as charming, melodic and full-throated as possible," said writer/director Alexander Payne. "Rolfe and I have worked together for over 25 years, and this was, I feel, the finest score he has yet produced, and, if you'll forgive the immodesty, as fine a score I've heard in any film in recent memory."
"Alexander asked for the score to be beautiful classical music," Kent described. The composer wanted to avoid film score clichés and took a different route. "I figured a Kubrickian approach was best, where the music sounds like it existed outside of the film, and was discovered to match the scene perfectly." Known for using unexpected textures, sounds and his own signature musical personality, this opened the floodgates for Rolfe. "As ever, Alexander was open to hearing unexpected sounds, so when I threw him the curve of an opera aria sung in Norwegian, or some bagpipes, he loved it."
Click here to buy the soundtrack on CD - Amazon.co.uk
Click here to buy the soundtrack digitally - Amazon.co.uk

Click here to buy the soundtrack on CD - Amazon.com
Click here to buy the soundtrack digitally - Amazon.com

07/12/17 - Star Trek Discovery soundtrack
CBS Television Studios is to release the original score for Star Trek: Discovery digitally on 15 December. A CD and vinyl release will be announced early next year.
The album featuring the score by Emmy Award-winning composer Jeff Russo and will be distributed by Lakeshore Records.
"Grand, glorious, hopeful, heartbreaking, intimate, bittersweet, tense, soaring, surprising. Over 51 years, in its many iterations, there's been no shortage of adjectives to describe the music of Star Trek," said co-creator Alex Kurtzman. "On the other hand, the list of composers capable of capturing them all is short, and this is where Jeff Russo comes in. Jeff manages to hold each note in beautiful balance, evoking the nostalgia of Alexander Courage's original theme while scoring Discovery with his own unique ear and heart. We're lucky to have him, and we hope you'll love his music as much as we do."
"The producers and I talked a lot about telling this story from an emotional point of view," explained Russo. "Relationships play a big role in this incarnation of the series, so trying to be true to that and create themes that connect characters is important."

06/12/17 - The Stolen arrives on DVD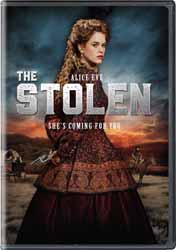 Ascendant Releasing presents Niall Johnson's thrilling Western adventure The Stolen on DVD and digital download from 11 December.
The movies is a heart-wrenching story set in New Zealand following a woman on a life-defining journey to rescue her kidnapped son.
Set in 1860, Charlotte Lockton has settled in the South Island of New Zealand with her wealthy husband, David during the Gold Rush. Blissful beginnings are suddenly shaken as Charlotte's world is turned upside down and her circumstances are drastically altered.
Frustrated with the apathy of the authorities, she decides to take on a journey of discovery and strength to track him down alone. When her son is kidnapped she joins a convoy of ex-cons, prostitutes and Maori warriors heading for the rough mining community of Gold Town. There she meets Joshua McCullen, the owner of the town and a man who is pivotal to uncovering the truth behind the disappearance of her son.

05/12/17 - The Ballad of Lefty Brown score
Lakeshore Records is to release H. Scott Salinas's score for The Ballad of Lefty Brown digitally on 15 December.
When cowboy Lefty Brown witnesses the murder of his longtime partner - the newly-elected Senator Edward Johnson - he strikes out to find the killers and avenge his friend's gruesome death.
Tracking the outlaws across the vast and desolate Montana plains, Lefty recruits a young gunslinger, Jeremiah, and an old friend, a hard-drinking U.S. Marshall, to help deliver the men to justice.
After a gunfight with the outlaws leaves Jeremiah wounded, Lefty returns home with the names of Johnson's killers only to find that he is being accused of his friend's murder. With the tables turned, and with his friend in the governor's mansion refusing to help, Lefty must evade the law and prove his innocence by exposing the powerful men ultimately responsible for Johnson's death.
Click here to buy the soundtrack digitally - Amazon.co.uk

Click here to buy the soundtrack digitally - Amazon.com

04/12/17 - House comes to Blu-ray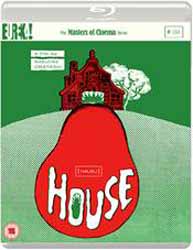 Eureka Entertainment to release House, a self-aware, post-modern Japanese fairy tale from one of cinema's great surrealists, as part of the Masters of Cinema range on Blu-ray on 12 February.
An unforgettable mixture of bubblegum teen melodrama and grisly phantasmagoria, Nobuhiko Obayashi's deranged fairy tale House is one of Japanese cinema's wildest supernatural ventures and a truly startling debut feature.
Upset by her widowed father's plans to remarry, Angel sets off with six of her schoolgirl friends in tow for a summer getaway at her aunt's isolated mansion. In this house of dormant secrets, long-held emotional traumas have terrifyingly physical embodiments and the girls must use their individual talents if any are to survive.
A rollercoaster ride without brakes, House is by turns hilarious, sinister, and unexpectedly lyrical, with ceaseless cinematic invention and a satirical, full-blooded approach to the horror genre. A gigantic smash on its original release in Japan, The Masters of Cinema Series is proud to present the film on Blu-ray for the first time in the UK.

01/12/17 - Revolt comes to DVD
Entertainment One is to release Revolt digitally on 15 January and on DVD on 22 January.
With the rest of the planet wiped out by an alien invasion a small group of survivors have to ensure human survival against all the odds.
In the war-ravaged countryside of South Africa, an American soldier and a French foreign aid worker team up to survive the alien onslaught.
Their bond will be tested as they search for refuge across a crumbling world. Starring Lee Pace, Jason Flemying and Berenice Marlohe Revolt is the story of humankind's last stand against a cataclysmic alien invasion.