Follow us on Facebook by clicking the image above
News - December
22/12/17 - Dean Valentine's score for Viking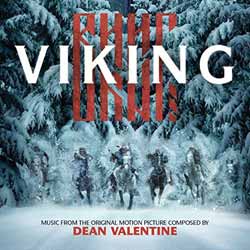 MovieScore Media raids the vaults of epic film scoring by releasing an album of music from the epic Viking, the top-grossing Russian film of all times.
Multi award winning Irish composer, Dean Valentine, was initially hired to score the trailers for the film and later was invited to create and score the main themes of the film as well as the big action set pieces.
The powerful orchestral music underscore a story set in a tumultuous period from the 10th century as Prince Vladimir must flee his homeland after the murder of his father - he must reclaim his throne from exile with the aid of Viking mercenaries.
While there has already been a soundtrack release for the film in Russia, that album contains only the contributions of Russian composer Igor Matvienko - this release only features Dean's music, with three bonus tracks from other works of the composer, including the trailer music for Ridley Scott's blockbuster 2015 The Martian.
Click here to buy the soundtrack digitally - Amazon.co.uk

Click here to buy the soundtrack digitally - Amazon.com

21/12/17 - John Williams's score for The Post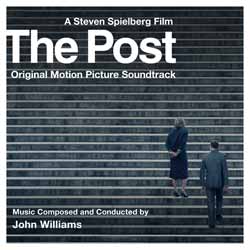 Sony Classical proudly announces the release of The Post (Original Motion Picture Soundtrack), featuring music by multi-award-winning composer John Williams. The soundtrack will be released digitally on 22 December with a CD release on 12 January.
Steven Spielberg directs Meryl Streep and Tom Hanks in The Post, a thrilling drama about the unlikely partnership between The Washington Post's Katharine Graham (Streep), the first female publisher of a major American newspaper, and editor Ben Bradlee (Hanks), as they race to catch up with The New York Times to expose a massive cover-up of government secrets that spanned three decades and four U.S. Presidents.
The two must overcome their differences as they risk their careers – and their very freedom – to help bring long-buried truths to light. The Post marks the first time Meryl Streep, Tom Hanks and Steven Spielberg have collaborated on a project.
Click here to buy the soundtrack on CD - Amazon.co.uk

Click here to buy the soundtrack on CD - Amazon.com

20/12/17 - The Vault gets a soundtrack release
MovieScore Media's latest venture into meshing genres is the music from the new James Franco heist thriller The Vault, in which composer Shaun Drew mixes the minimalist synth sounds of John Carpenter with the orchestral mayhem of The Shining.
Co-written by and directed by Dan Bush, The Vault stars Franco as Ed Maas, the assisting bank manager who gets caught up helping two estranged sisters pull off the perfect heist in order to save their brother. In fact, their plan goes awry, and it's soon revealed that there are otherworldly forces involved in the caper, as the siblings battle forces way beyond their imagination...
Though he has been in the business for more than a decade, composer Shaun Drew makes his original soundtrack release debut for MovieScore Media with The Vault. Drew's most notable scores are written for Warner Brothers/DC Comics partnerships, and are thus part of the animated universe of the comic book publisher. Drew's music can be heard in the hit YouTube series DC Super Hero Girls, the new animated franchise focusing on the high school days of DC's favourite heroines and villainesses. Shaun also composed music for the 75th anniversary DC Comics documentary, Secret Origin: The Story of DC Comics. His first solo recording effort, an ambient album called The Great Dissolve, was met with positive critical reviews, and was honoured as a finalist by the Independent Music Awards.
Click here to buy the soundtrack digitally - Amazon.co.uk

Click here to buy the soundtrack digitally - Amazon.com

19/12/17 - Orphan Black: DNA Sampler album
With Orphan Black completing its five-year run earlier this year, Varèse Sarabande compiles a special collection of the best songs from the series celebrating the lives of "the seestras."
Orphan Black: The DNA Sampler will be released digitally and CD on 22 December.
From the moment Sarah Manning (Emmy® Award winning actress Tatiana Maslany) locked eyes with an unknown identical woman, who jumped to her death, her life has never been the same. She's found out she's a clone, that there are multiple clones out there, and multiple factions that sought to hunt, control, betray or kill them.
The Orphan Black: THE DNA Sampler features music by The Ettes, The Belle Game, The (International) Noise Conspiracy, Peaches (featuring Nick Zinner of Yeah Yeah Yeahs), as well as exclusive tracks created especially for the show. The album also features the 'Theme From Orphan Black' by Two Fingers, a German version of 'These Boots Are Made For Walking', and 'Wouldn't It Be Nice', sung in Ukranian by Stacey Y and arranged by series composer Trevor Yuile exclusively for this album release.
Play list:
01 - Theme from Orphan Black (Two Fingers)
02 - Bodyline (Peaches feat. Nick Zinner)
03 - Smash It Up (The (International) Noise Conspiracy)
04 - Prêt a Porter (Emilie Mover)
05 - Blame Fiction (The Belle Game)
06 - I Fought The Law (Dr.V featuring Ted Hawkins) (Die stiefel sind zum wander)
07 - These Boots Are Made For Walking (Eileen)
08 - Warriors (Arya)
09 - Farewell (Tavern in the Town) (Self-Titled Studios featuring Mary Margaret O'Hara)
10 - Tosta Mista (Hooded Fang)
11 - Go (Grimes featuring Blood Diamonds)
12 - Calling Me (YDID Mix) (Stacey)
13 - It Ain't You (The Ettes)
14 - Old School Punk Rockers (The Lucky Ones featuring Mike McNeal)
15 - Wouldn't It Be Nice (Trevor Yuile featuring Stacey Y)
Click here to buy the soundtrack on CD - Amazon.co.uk

Click here to buy the soundtrack on CD - Amazon.com

18/12/17 - Black Panther Guide to be published
DK is to publish Marvel Black Panther: The Ultimate Guide by Stephen "Win" Wiacek on 04 January.
Discover the origin and history of the Warrior King of Wakanda, champion of the oppressed and ally to the Avengers, with DK's Marvel Black Panther: The Ultimate Guide. Featuring a foreword from prolific comic writer Don McGregor, who helmed several Black Panther stories and written by comics historian Stephen "Win" Wiacek,
DK's new compendium provides fans with a comprehensive overview of the beloved character before the film Marvel's Black Panther hits cinemas on 09 February.
Take a deep-dive into the extensive history of the Black Panther comics with this fully illustrated guide, which highlights key comic book issues, themes, and characters. A detailed timeline pieces together the Black Panther storyline within the full Marvel universe, to help fans follow T'Challa's story up to present day. Become immersed in the world of Black Panther by studying a map of the kingdom of Wakanda, and get caught up to speed by reading detailed profiles of iconic characters, such as Shuri, Queen Mother Ramonda, and the Dora Milaje.
Meet Black Panther's friends, including Luke Cage, the Falcon, and Storm, and his foes, too, like Ulysses Klaw, Erik Killmonger, Doctor Doom, and Sub-Mariner. Learn about major storylines, pivotal moments, and story arcs in the history of Black Panther comics, including "Panther's Rage," "Doomwar," and "Secret Invasion," and "A Nation Under Our Feet" through engaging trivia and essential facts.
Click here to buy this book - Amazon.co.uk

15/12/17 - Strangled Blu-ray & DVD release
Eureka Entertainment to release Strangled, an unpredictable psychological thriller, as part of the Montage Pictures range in a Dual Format (Blu-ray & DVD) edition on 05 February.
Based on real-life events, Strangled is set in the provincial Hungary of the 1960s at the height of socialism, when a series of atrocious murders shock the small town of Martfű.
A psychotic killer is on the prowl, strangling young women. Amidst the media frenzy, an innocent man is accused and sentenced for the crimes he could not possibly have committed.
A determined detective becomes obsessed with finding the real killer, whilst under pressure from his superiors who just want to see a man hang.
Winner of nine Hungarian Film Awards, Strangled is a dark and gritty thriller from Árpád Sopsits that brings to mind both Lang's M and Fincher's Zodiac in its approach to the murder-mystery genre.
Click here to buy this Blu-ray and DVD dual format - Amazon.co.uk

14/12/17 - Goodbye Christopher Robin Blu-ray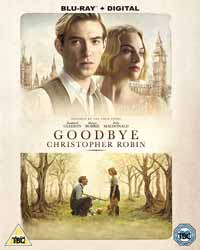 Twentieth Century Fox Home Entertainment is to release Goodbye Christopher Robin digitally on 12 February and on Blu-ray and DVD on 26 February.
Goodbye Christopher Robin is a touching nostalgic trip back in time, recounting when author A. A. Milne created the adorable children's classic story of Winnie-the-Pooh.
At the end of the First World War, beloved children's author A. A. Milne (Domhnall Gleeson) creates the magical world of Winnie-the-Pooh = which brings him immediate acclaim. But the books' international success comes at a cost to the author, his young son Christopher Robin (Will Tilston) and his wife Daphne (Margot Robbie), in this beautifully filmed, poignant story about fame and family that also stars Kelly Macdonald.
Follow the journey A. A. Milne and his family embark on when the birth of Winnie-the-Pooh grasps the attention of not just Britain, but the entire world, as everyone falls for the warm, soft, fuzzy bear who conquers our hearts just as much today as he did back then.
Click here to buy the Blu-ray - Amazon.co.uk
Click here to buy the DVD - Amazon.co.uk
Click here to buy this digitally - Amazon.co.uk

13/12/17 - Forza Motorsport 7 soundtrack
Sumthing Else Music Works releases the soundtrack for video game Forza Motorsport 7.
Forza Motorsport 7 immerses players in the exhilarating thrill of competitive racing. From mastering the new motorsport-inspired campaign to collecting a wide range of cars to experiencing the excitement of driving at the limit, this is Forza reimagined.
The Forza Motorsport 7 score is a complete departure from Cohen and Nielsen's approach to 6. "For Forza Motorsport 7, our conversations early on with Turn 10 Studios centred around the idea of 'humanizing' the game, from the GUI to the overall aesthetic look and feel and the music," Cohen described. "In thinking of the notion of humanizing the music, the game's audio director felt this could be translated into a band playing together in a room, which in turn after some creative discovery, led us down the road of writing essentially a vintage rock score."
Click here to buy the soundtrack digitally - Amazon.co.uk

Click here to buy the soundtrack digitally - Amazon.com

12/12/17 - The Housemaid Blu-ray/DVD release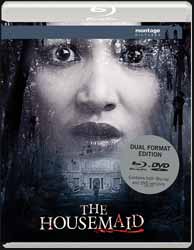 Eureka Entertainment to release The Housemaid, a refreshing update of the gothic-horror genre, as part of its new Montage Pictures range in a Dual Format (Blu-ray & DVD) edition on 19 February.
First-time director Derek Nguyen makes a captivating debut with The Housemaid [Cô Haû Gaí], a haunting gothic romance which blends bold eroticism with a pervasive sense of dread.
Linh is a docile and hardworking poor orphaned girl who comes to Sa Cat seeking a housemaid job. Sebastien Laurent is a French captain and owner of the Sa Cat rubber plantation. For years, the massive mansion is rumoured to have ghosts, particularly those of Camille – Sebastien's late wife—and the mistreated plantation workers. Once Linh comes to Sa Cat, she begins to hear strange sounds, have frightening dreams, and witness bizarre occurrences.
After some time, Linh and Captain Laurent become close to each other and develop a romance. However, their love soon awakens the vengeful souls of Sa Cat plantation.
Click here to buy this Blu-ray/DVD Dual Format - Amazon.co.uk

11/12/17 - Downsizing soundtrack release
WaterTower Music will release the Downsizing - Original Motion Picture Soundtrack via digital retail on 22 December and on CD on 12 January.
The album features the original score by Rolfe Kent and the original song 'A Little Change In The Weather', co-written by Kent and performed by The Swingles.
"Rolfe Kent and I agreed that no matter what the music was meant to express, we wanted it as charming, melodic and full-throated as possible," said writer/director Alexander Payne. "Rolfe and I have worked together for over 25 years, and this was, I feel, the finest score he has yet produced, and, if you'll forgive the immodesty, as fine a score I've heard in any film in recent memory."
"Alexander asked for the score to be beautiful classical music," Kent described. The composer wanted to avoid film score clichés and took a different route. "I figured a Kubrickian approach was best, where the music sounds like it existed outside of the film, and was discovered to match the scene perfectly." Known for using unexpected textures, sounds and his own signature musical personality, this opened the floodgates for Rolfe. "As ever, Alexander was open to hearing unexpected sounds, so when I threw him the curve of an opera aria sung in Norwegian, or some bagpipes, he loved it."
Click here to buy the soundtrack on CD - Amazon.co.uk
Click here to buy the soundtrack digitally - Amazon.co.uk

Click here to buy the soundtrack on CD - Amazon.com
Click here to buy the soundtrack digitally - Amazon.com

07/12/17 - Star Trek Discovery soundtrack
CBS Television Studios is to release the original score for Star Trek: Discovery digitally on 15 December. A CD and vinyl release will be announced early next year.
The album featuring the score by Emmy Award-winning composer Jeff Russo and will be distributed by Lakeshore Records.
"Grand, glorious, hopeful, heartbreaking, intimate, bittersweet, tense, soaring, surprising. Over 51 years, in its many iterations, there's been no shortage of adjectives to describe the music of Star Trek," said co-creator Alex Kurtzman. "On the other hand, the list of composers capable of capturing them all is short, and this is where Jeff Russo comes in. Jeff manages to hold each note in beautiful balance, evoking the nostalgia of Alexander Courage's original theme while scoring Discovery with his own unique ear and heart. We're lucky to have him, and we hope you'll love his music as much as we do."
"The producers and I talked a lot about telling this story from an emotional point of view," explained Russo. "Relationships play a big role in this incarnation of the series, so trying to be true to that and create themes that connect characters is important."

06/12/17 - The Stolen arrives on DVD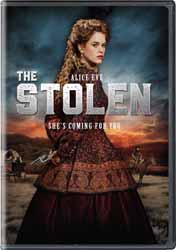 Ascendant Releasing presents Niall Johnson's thrilling Western adventure The Stolen on DVD and digital download from 11 December.
The movies is a heart-wrenching story set in New Zealand following a woman on a life-defining journey to rescue her kidnapped son.
Set in 1860, Charlotte Lockton has settled in the South Island of New Zealand with her wealthy husband, David during the Gold Rush. Blissful beginnings are suddenly shaken as Charlotte's world is turned upside down and her circumstances are drastically altered.
Frustrated with the apathy of the authorities, she decides to take on a journey of discovery and strength to track him down alone. When her son is kidnapped she joins a convoy of ex-cons, prostitutes and Maori warriors heading for the rough mining community of Gold Town. There she meets Joshua McCullen, the owner of the town and a man who is pivotal to uncovering the truth behind the disappearance of her son.

05/12/17 - The Ballad of Lefty Brown score
Lakeshore Records is to release H. Scott Salinas's score for The Ballad of Lefty Brown digitally on 15 December.
When cowboy Lefty Brown witnesses the murder of his longtime partner - the newly-elected Senator Edward Johnson - he strikes out to find the killers and avenge his friend's gruesome death.
Tracking the outlaws across the vast and desolate Montana plains, Lefty recruits a young gunslinger, Jeremiah, and an old friend, a hard-drinking U.S. Marshall, to help deliver the men to justice.
After a gunfight with the outlaws leaves Jeremiah wounded, Lefty returns home with the names of Johnson's killers only to find that he is being accused of his friend's murder. With the tables turned, and with his friend in the governor's mansion refusing to help, Lefty must evade the law and prove his innocence by exposing the powerful men ultimately responsible for Johnson's death.
Click here to buy the soundtrack digitally - Amazon.co.uk

Click here to buy the soundtrack digitally - Amazon.com

04/12/17 - House comes to Blu-ray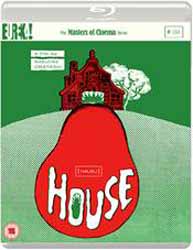 Eureka Entertainment to release House, a self-aware, post-modern Japanese fairy tale from one of cinema's great surrealists, as part of the Masters of Cinema range on Blu-ray on 12 February.
An unforgettable mixture of bubblegum teen melodrama and grisly phantasmagoria, Nobuhiko Obayashi's deranged fairy tale House is one of Japanese cinema's wildest supernatural ventures and a truly startling debut feature.
Upset by her widowed father's plans to remarry, Angel sets off with six of her schoolgirl friends in tow for a summer getaway at her aunt's isolated mansion. In this house of dormant secrets, long-held emotional traumas have terrifyingly physical embodiments and the girls must use their individual talents if any are to survive.
A rollercoaster ride without brakes, House is by turns hilarious, sinister, and unexpectedly lyrical, with ceaseless cinematic invention and a satirical, full-blooded approach to the horror genre. A gigantic smash on its original release in Japan, The Masters of Cinema Series is proud to present the film on Blu-ray for the first time in the UK.

01/12/17 - Revolt comes to DVD
Entertainment One is to release Revolt digitally on 15 January and on DVD on 22 January.
With the rest of the planet wiped out by an alien invasion a small group of survivors have to ensure human survival against all the odds.
In the war-ravaged countryside of South Africa, an American soldier and a French foreign aid worker team up to survive the alien onslaught.
Their bond will be tested as they search for refuge across a crumbling world. Starring Lee Pace, Jason Flemying and Berenice Marlohe Revolt is the story of humankind's last stand against a cataclysmic alien invasion.