Follow us on Facebook by clicking the image above
News - September
29/09/17 - Blacklist: Redemption DVD release
Sony Pictures Home Entertainment is to release Blacklist: Redemption: The Complete First Season on DVD on 09 October.
The world's most elusive criminals from Red's infamous list come together to form an elite mercenary team, seeking redemption for their past transgressions.
Blacklist operative Tom Keen joins he team's brilliant and cunning chief, Susan "Scottie" Hargrave, and lethal assassin – and Tom's nemesis – Matias Solomon as they undertake seemingly impossible missions, becoming a force for good and righting dangerous wrongs in the process.
Click here to buy this on DVD - Amazon.co.uk
28/09/17 - Janie Dee at the BBC album released
Auburn Jam Records is to release Janie Dee at the BBC, the debut album of the award-winning actress, singer and musical theatre performer, on 02 October.
The album was recorded at the legendary BBC Maida Vale Studios, where Janie has recorded many times throughout her career for BBC productions including The Gay Divorce with Tim Flavin, Carousel with Mandy Patinkin, Finian's Rainbow with Milo O'Shea, Friday Night Is Music Night, and with the great Guy Barker and the BBC Symphony Orchestra for his composition That Obscure Hurt.
The record features thirteen songs from Janie's own witty and sophisticated cabarets which she has performed at leading venues including Crazy Coqs, The Hippodrome, The Pheasantry, the St James Studio and the 'Divas at the Donmar' season. The album embraces musical theatre songs by Kander and Ebb, pop classics by Burt Bacharach and Hal David, Stevie Wonder and Keane, as well as comic songs by Spike Milligan and Sir Alan Ayckbourn.
Janie will be celebrating the release with three evenings of the Janie Dee at the BBC: Album Launch from 02-04 October 7pm in the intimate surroundings of the Crazy Coqs, Live at Zédel, featuring a selection of songs from the new album and welcoming some surprise guests to the stage at certain performances. Janie will also be performing a special late-night cabaret on 03 and 04 October at 9.15pm, entitled Off The Record.
27/09/17 - War for the Planet of the Apes release
Twentieth Century Fox Home Entertainment is to release War for the Planet of the Apes on Blu-ray and DVD on 27 November and digital download on 10 November.
Andy Serkis returns as Caesar in the thrilling and climatic chapter as Caesar and his apes are forced into a deadly conflict with an army of humans led by a ruthless Colonel.
After suffering unimaginable losses, Caesar resolves to avenge his kind, pitting him against the Colonel for a final showdown that will determine the future of the planet.
Special features include exclusive deleted scenes with optional audio commentary by director Matt Reeves, behind-the-scenes featurettes, including All About Caesar, which focuses on Andy Serkis and his incredible performances through the three films as Caesar, bringing his character and his journey to life. Additionally, the digital version of the film includes 10 Scene Comparisons, showing a side-by-side exploration of the actors' performance captures above the final scenes in the film.
Click here to buy this on 4K Blu-ray - Amazon.co.uk
Click here to buy this on 3D Blu-ray - Amazon.co.uk
Click here to buy this on Blu-ray - Amazon.co.uk
Click here to buy this on DVD - Amazon.co.uk
Click here to buy this on digital download - Amazon.co.uk
26/09/17 - The Canterville Ghost on Blu-ray / DVD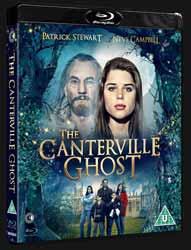 Second Sight Films is to release The Canterville Ghost on Blu-ray and DVD on 23 October.
Featuring an all-star cast lead by Patrick Stewart alongside Neve Campbell, Joan Sims, Donald Sinden and Cherie Lunghi comes a magical adaptation of Oscar Wilde's classic tale The Canterville Ghost.
Fearing a life of boredom when her family relocates from America to a sprawling English stately home, teenager Ginny Otis (Campbell) is in for quite a surprise. Strange goings-on are soon explained when she encounters the ghost of Sir Simon de Canterville (Stewart), who can only be seen by Ginny and her brothers. An understandably grouchy ghost at first, Ginny learns his sorrowful tale and vows to help him lift the curse that will keep him haunting the corridors of Canterville Hall forever.
Click here to buy this on Blu-ray - Amazon.co.uk
Click here to buy this on DVD - Amazon.co.uk
25/09/17 - John Lee Hooker CD retrospective
Craft Recordings is to release King of the Boogie, a career-spanning retrospective, honouring blues icon John Lee Hooker, as a five CD set on 06 October.
The release delves deep into the catalog of the influential artist, featuring not only his iconic hits, but also rarities, live recordings and several previously unreleased tracks.
Housed in a 56-page book, the collection includes a wide selection of photos, taken throughout the musician's life, plus new liner notes by writer and John Lee Hooker historian Jas Obrecht, as well as by the artist's longtime manager and friend, Mike Kappus.
Click here to buy this on CD - Amazon.co.uk
22/09/17 - Preacher Season 2 Blu-ray and DVD
Sony Pictures Home Entertainment is to release Preacher: Season 2 on Blu-ray and DVD on 13 November.
Preacher: Season 2 contains all 13 episodes in four-disc Blu-ray and DVD sets. Along with the gag reel, featuring hilarious moments from the cutting room floor, is the featurette 'Raising the Stakes: Action on Set,' where the cast and crew explain why Season Two is filled with more action, blood and gore than ever before as we follow along on-set for one of the biggest fights of the season from the episode 'Damsels.'
The second season of Preacher is a genre-bending thrill ride that follows West Texas preacher Jesse Custer (Dominic Cooper), his badass ex-girlfriend Tulip (Academy Award® nominee Ruth Negga, Best Actress, Loving, 2016) and Irish vampire Cassidy (Joseph Gilgun) as they embark on a road trip to find God and are thrust into a twisted battle spanning Heaven, Hell and everywhere in between.
Click here to buy this on Blu-ray - Amazon.co.uk
Click here to buy this on DVD - Amazon.co.uk
21/09/17 - Walking Dead Season 7 Blu-ray/DVD
Entertainment One is to release The Walking Dead: The Complete Seventh Season on Blu-ray and DVD on 30 October.
A Limited Edition "Spike Walker" Statue with Matte Digipak will be available exclusively to Zavvi.co.uk this October.
The set, which includes the complete seventh season housed in special six-disc digipak packaging, comes complete with an interactive Winslow bust. Remove one of the many spikes driven through Winslow's body, place it back in, and the gruesome sculpture unlocks access to the discs underneath.
Click here to buy this on Blu-ray - Amazon.co.uk
Click here to buy this on DVD - Amazon.co.uk
Click here to buy this digitally - Amazon.co.uk
Click here to buy "Spike Walker" Statue edition - zavvi.com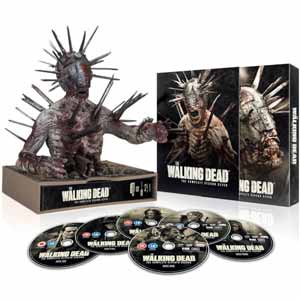 20/09/17 - Unrest soundtrack announced
Sparks & Shadows announces the release of the Unrest soundtrack, featuring music by Bear McCreary, on 22 September.
The documentary, directed by Jennifer Brea, chronicled her ordeal suffering from ME, more commonly known as Chronic Fatigue Syndrome.
In Unrest, twenty-eight year-old Jennifer Brea is working on her PhD at Harvard and months away from marrying the love of her life when she gets a mysterious fever that leaves her bedridden and looking for answers. Determined to live, she turns her camera on herself and her community - a hidden world of millions confined to their homes and bedrooms by ME.
Unrest is, at its core, a love story. How Jen and her new husband forge their relationship while dealing with her mysterious illness is at once heartbreaking, inspiring and funny.
Click here to buy the soundtrack digitally - Amazon.co.uk

Click here to buy the soundtrack digitally - Amazon.com
19/09/17 - Warriors Gate comes to DVD
Kaleidoscope Home Entertainment is to release Warriors Gate on DVD on 02 October.
While working as a store assistant, teen gamer Jack Bronson stumbles across a curious antique casket, which turns out to be a time portal - and out of which comes Princess Su Lin, on the run from sword wielding warriors.
Jack becomes friends with the princess and helps her adapt to modern life, until she is transported back to ancient China.
With the help of a time-travelling wizard, Jack goes through the portal in a bid to rescue Su Lin, who is about to be married against her will to the tyrannical barbarian King Arun.
Click here to buy this DVD - Amazon.co.uk
Click here to buy this digitally - Amazon.co.uk
19/09/17 - Two Teen Wolf albums released
Sony Classical announces the release of two albums celebrating the MTV original series Teen Wolf.
The Teen Wolf – Original Television Soundtrack features beloved indie rock and electronica songs used throughout the series from artists including Young the Giant, Mikky Ekko, Fink, and the haunting cover of 'Bad Moon Rising' performed by Mourning Ritual feat. Peter Dreimanis.
The Teen Wolf – Original Television Score features original music written by composer Dino Meneghin (Taking the Stage, Eye Candy) including 'Teen Wolf Main Title'.
Loosely based on the 1985 film of the same name, MTV's Teen Wolf and stars Tyler Posey as a teenager named Scott McCall, who is bitten by a werewolf and must cope with how it affects his life and the lives of those closest to him, and Dylan O'Brien as "Stiles" Stilinski, Scott's best friend. Teen Wolf first premiered in 2011, and is currently airing its sixth and final season Sundays on MTV in the US and on various channels internationally.
Click here to buy the soundtrack on CD - Amazon.co.uk
Click here to buy the soundtrack digitally - Amazon.co.uk
Click here to buy the score digitally - Amazon.co.uk
Click here to buy the soundtrack on CD - Amazon.com
Click here to buy the soundtrack digitally - Amazon.com
Click here to buy the score digitally - Amazon.com
15/09/17 - Popeye deluxe soundtrack release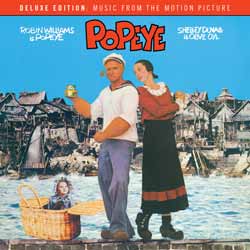 Varèse Sarabande will release the most comprehensive version of the Popeye soundtrack ever assembled on CD on 29 September.
The album features the film's beloved songs by Harry Nilsson, performed by the cast (including Robin Williams, Shelly Duvall, and Ray Walston), never-before released original score composed by Thomas Pierson, and an entire disc of demos performed by Harry Nilsson.
The Popeye – Deluxe Edition Music From the Motion Picture also includes newly-discovered images and extensive liner notes.
A rare co-production between Paramount Pictures and Walt Disney Productions – the 1980 film Popeye was a live-action musical version of E.C. Segar's classic comic strip, directed by Robert Altman and produced by Robert Evans. The idea was first presented to him by Evans during a party at the producer's home in mid-1977. Nilsson's initial response, "We shared two or three vodkas, and then I told him I didn't think it was such a good idea to do Popeye."
Click here to buy this CD - Amazon.co.uk
Click here to buy this CD - Amazon.com
14/09/17 - Trust Me comes to DVD
StudioCanal will release the BBC One four-part miniseries Trust Me on DVD on 18 September,
Trust Me is a hospital drama with an A&E consultant desperately trying to hide the fact that she's not a real doctor, complete with a thrilling twist, life or death moments, gory injuries and staff romances.
The show is a character-led psychological thriller that drew in an average of 4.3 million viewers when it first aired.
When hard-working, idealistic nurse Cath Hardacre (Whittaker) sees her hospital's standards slipping, she raises her concerns with the hospital trust. However, Cath is stunned when she loses her job for whistleblowing.
In order to provide for her young daughter, Cath is forced to take drastic measures. She steals her best friend's identity as a doctor and begins a new life in Edinburgh as Dr. Ally Sutton. Working at an emergency department on the brink of closure, Cath's induction as an imposter doctor isn't easy. But it is not long before she starts to enjoy the trappings that come with her new job and Cath soon finds herself falling for fellow doctor, Andy Brenner. With her dream job and the perfect man, Cath buries herself in her imposter persona. Yet when her old life threatens to shatter her new existence, Cath finds herself going to increasingly desperate measures to cover up her lies.
Click here to buy this on DVD - Amazon.co.uk
13/09/17 - Ben-Hur score re-recorded on 2 CDs
Tadlow Music is to release a special collector's edition 2-CD set Ben-Hur composed by Miklós Rózsa on 03 October.
The complete 157-minute score, including previously unreleased music, has been re-recorded in stunning and dynamic 24-Bit 96kHz digital sound, performed by the award-winning City of Prague Philharmonic, conducted by Nic Raine and produced by label founder James Fitzpatrick.
"Hearing many full versions of the film cues and some that were never recorded before, generations new and old will be exposed to my father's epic masterpiece in its entirety for the first time," said Miklós' daughter Juliet Rózsa.
"Ben-Hur was one of my father's favourite scores; he worked on it for over a year – mostly in his beloved Italy. He won the richly deserved Academy Award® (his third) for Best Music score. He would have been ever so pleased with this new CD – as am I – and I thank Tadlow Music and James Fitzpatrick for producing my father's magnum opus, recorded in rich digital 21st-century sound, in all its majestic glory. Bravo!!"
Click here to buy this on CD - Amazon.co.uk
12/09/17 - The Killer B' Movie Collection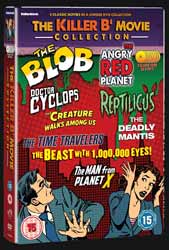 Fabulous Films Ltd / Fremantle Media Enterprises is to release The Killer B' Movie Collection on DVD on 18 September.
An all new collection of some of the best Sci-fi B movies ever made.
From Steve McQueen's gooey film debut in the The Blob, to the monster movies The Deadly Mantis, The Creature Walks Among Us, The Beast with 1,000,000 Eyes and Reptilicus to the Sci-Fi adventures of The Man From Planet X, The Time Travelers, The Angry Red Planet and Doctor Cyclops.
This 9 DVD set will transport you back to a different time in film-making, where big ideas did not need big budgets.
Click here to buy this on DVD - Amazon.co.uk
11/09/17 - Peter Sellers Movie Collection DVD
Fabulous Films is to release The Peter Sellers Movie Collection on DVD on 25 September.
This collection includes the 1975 comedy The Great McGonagall set in Victorian times and starring Spike Milligan - a story of the world's greatest poet.
The 1969 classic comedy The Magic Christian starring Ringo Starr, Richard Attenborough, Christopher Lee and Spike Milligan – and features original music by Paul McCartney.
The 1973 comedy that Sellers did his utmost to prevent being released Ghost in the Noonday Sun starring Peter Boyle and Spike Milligan.
And finally the 1979 adventure comedy The Prisoner of Zenda also starring Lionel Jeffries and Elke Sommer.
Click here to buy this on DVD - Amazon.co.uk
08/09/17 - New Gregory Porter album announced
Decca / Blue Note Records is to release Gregory Porter's new album, Nat King Cole & Me on 27 October.
Grammy-winning singing sensation Gregory Porter – one of the most successful jazz artists of his generation – is back with a deeply personal tribute to Nat King Cole – the legendary crooner who ignited Gregory's love of music.
"It's only natural that I go to the root of my inspiration and where I come from. And that root would be my mother and gospel music and Nat King Cole," he says.
The new album marks the first time Gregory has recorded with a full orchestra. Gregory will also be embarking on a UK tour in April next year, including two nights at the Royal Albert Hall where he'll be joined by an orchestra.
Click here to buy this on CD - Amazon.co.uk
Click here to buy the digital album - Amazon.co.uk
Click here to buy this on vinyl - Amazon.co.uk
07/09/17 - Wonder Woman home entertainment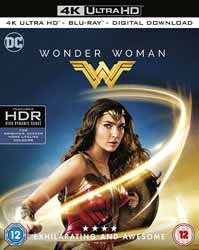 Warner Bros. and DC Entertainment is releasing Wonder Woman on Blu-ray, DVD (09 October) and digital download (25 September).
Gal Gadot returns as the DC Super Hero in the epic action adventure from director Patty Jenkins.
The 4K UHD, Blu-ray, 3D and Blu-ray will include an all-new bonus scene never before seen in cinemas as well as interviews with filmmakers, featurettes, and extended scenes.
Before she was Wonder Woman, she was Diana, princess of the Amazons, trained to be an unconquerable warrior. Raised on a sheltered island paradise, when an American pilot crashes on their shores and tells of a massive conflict raging in the outside world, Diana leaves her home, convinced she can stop the threat. Fighting alongside man in a war to end all wars, Diana will discover her full powers... and her true destiny.
Click here to buy this on 4K Blu-ray - Amazon.co.uk
Click here to buy this on 3D Blu-ray - Amazon.co.uk
Click here to buy this on Blu-ray - Amazon.co.uk
Click here to buy this on DVD - Amazon.co.uk
Click here to buy this digitally - Amazon.co.uk
06/09/17 - Christine LP is being reissued
Varèse Sarabande will release John Carpenter's classic score for Christine on LP from 29 September.
The soundtrack has been fully remastered and is being released on blue vinyl. The album features fantastic new art from award-winning movie poster artist Gary Pullin (Ghoulish Gary).
In the past few years, there has been a tremendous upsurge in interest for John Carpenter's signature score compositions following the success of the Carpenter's Lost Themes and Lost Themes II albums, and subsequent tours.
The rare director-composer combo, Carpenter's scores for his classic horror films are a favourite of electronic music aficionados.
Click here to buy this vinyl album- Amazon.co.uk
Click here to buy this vinyl album - Amazon.com
05/09/17 - Resurrection on Evil DVD
Thunderbird Releasing is to release Resurrection of Evil on DVD on 16 October.
Welcome to Havenhurst, a turn-of the-century gothic apartment complex in the heart of New York City with one rule: live a good and decent life and you can stay for as long as you like. Break this rule and face eviction – and never be seen or heard from again.
When Jackie Sullivan (Julie Benz, Buffy the Vampire Slayer, Dexter) is released from rehab, she moves into Havenhurst to start a new life. Guiltridden over the tragic loss of her daughter, Jackie is quickly drawn into the mysteries of the building, in particular the unsolved disappearance of a previous occupant.
Aided by a hardened police detective, Jackie must not only battle her inner demons but the very real ones that live deep within her new home.
Click here to buy this DVD - Amazon.co.uk
04/09/17 - Use the force to find your items
Consumer electronics developer Plox is to release its official Star Wars Finder onto the UK market this October.
The device allows users to channel their inner Jedi and use the force to find any missing possessions.
Fans of the Trilogy will instantly recognise the familiar characters featured on the different Finders, including Chewbacca, R2 D2 and the Stormtroopers.
Locate items by simply attaching the Stars Wars Finder to keys, wallets or even phones. It notifies users when items are over 100 feet away, as well as operating as an independent remote – users can order their mobile phone to ring using the force of the Finder!
Compatible with both Android and iOS.
01/09/17 - ARK: Survival Evolved score
Sumthing Else Music Works has released Gareth Coker's score for the video game ARK: Survival Evolved.
The score was recorded by the Philharmonia Orchestra at Abbey Road Studios in London.
For his latest musical journey and collaboration with Studio Wildcard on ARK: Survival Evolved, Coker explains, "The scope and size of the score of ARK: Survival Evolved, whilst intimidating, has pushed me to write in ways I didn't know I was capable of. And to cap it all off, with a gargantuan 3-day recording session in London with the amazing Philharmonia Orchestra really helped glue the entire score together. For the two years I've been working on the game, I've been able to see the lightning in a bottle that Studio Wildcard captured, and watch it blossom and grow on Twitch and YouTube throughout the early access program, into the monster it has become today. I can't wait to revisit the Island and beyond with more music for the upcoming expansions to the game!"
Click here to buy the digital album - Sumthing.com